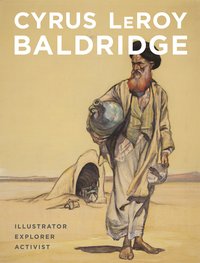 Curators: Alice Kain and Jay Mulberry, AB'63
Cyrus Baldridge (1889-1977) was an artist, illustrator, and author whose travels took him across Africa, Europe, Asia, and the Far East.  His artistic training began at age 9, followed by education at the University of Chicago. Baldridge also developed an acute social and political awareness through a range of experiences, from working in a social settlement house to cattle ranching in Texas.
He began his career as a frontline artist during World War I, where he worked for several newspapers reporting on life in the trenches. Later he journeyed across continents with his partner, author Caroline Singer, sketching and painting the scenes that would later be published in lavishly illustrated books focusing on world cultures and peoples.
As an alumnus (PhB 1911), Baldridge presented a number of his artworks to the University of Chicago, where they are now part of the collection of the University's Smart Museum of Art. Archival materials on Baldridge's student days are preserved in the Special Collections Research Center. An important collection of Baldridge art, books, and documents is also held by University alumnus Jay Mulberry, who is loaning many items for the exhibition.  Drawing on these collections, Cyrus Leroy Baldridge:  Illustrator, Explorer, Activist will explore the full range of Baldridge's life and art, showcasing many of his illustrations for the first time.
Exhibit Publications & Documents