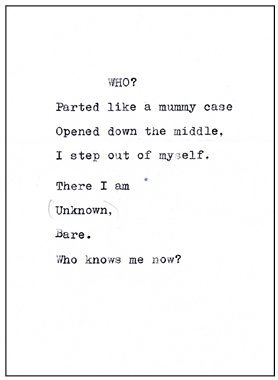 Photographs—and more specifically, photographic portraiture—are an important component of the archival and manuscript collections held in the Special Collections Research Center. Photographs make their way into the repository alongside correspondence, diaries, film, reports, memoranda, minutes, and much more. The study of this original documentary material can reveal much about the activities and relationships of a person, a life fixed in records. I Step Out of Myself offers up one piece of that biographical puzzle for closer consideration: faces fixed in a photograph. The portrait photographs displayed here range widely in technique, style, subject matter, and emotion, but the questions remain the same. Who is revealed, and who hidden?

The poem "I Step Out of Myself" was composed by photographer and writer Layle Silbert during a pivotal time in her creative life. Silbert had been taking photographs for over a decade when, in the late 1960s, she attended the founding meeting of the New York Poets' Cooperative and turned the camera on her fellow writers. Thus began Silbert's life-long passion for photographing poets, novelists, and playwrights as they spoke, thought, grinned, grimaced, and posed for her camera. The shutter parted, and someone—who?—emerged.

Silbert is one of ten photographers whose portraiture is featured in this exhibition. Turn-of-the-twentieth-century fine art photographers Eva Watson-Schütze, Alice Boughton, Tina Modotti, and Librado García Smarth romanticized their subjects through careful framing, soft textures, and warm tones. Carl Van Vechten dialed up the glamour in the 1930s with tightly-framed photographs of celebrities against bold backgrounds. With the help of studio lighting, Yousef Karsh created iconic portraits of powerful politicians and artists from the 1940s through the 1960s. During this same period, Mildred Mead turned her camera away from the faces of the powerful to the faces of impoverished people living in Chicago's slums. Like Mead, Joan Eggan worked in a photojournalistic style, photographing persons from all walks of life, and from around the globe, as they went about their daily business in the 1970s. Layle Silbert utilized multiple photographic styles in the 1970s and 1980s for her portraits of writers in New York City.

I Step Out of Myself forms part of a recurring exhibition series highlighting important or recently received materials in the archives and manuscript collections. Additional information about the collections from which these photographs are drawn is available in the Special Collections Research Center.

Exhibit Publications & Documents