Broken Together: Letters from Stateville Minimum Security Unit
Broken Together is a program that was designed to create a safe place to address and speak about the trauma we as incarcerated men carry each and every day, but is so taboo to talk about.
In 2022, Luis "Chris" Vega designed and led a pilot project to address trauma among men incarcerated at Stateville Minimum Security Unit in Crest Hill, Illinois. The group, "Broken Together," was a twelve week program, during which time the participants met to share and write about their experiences. The letters collected here are the product of these discussions. With the help of Correctional Counselor Demetria Johnson, the Broken Together program has been opened to all the men incarcerated at Stateville, and may become available at all Illinois State correctional facilities.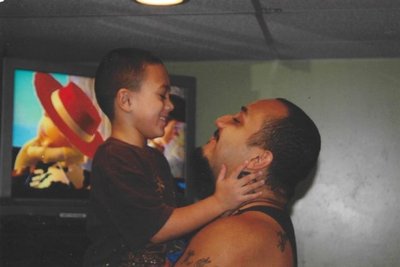 What is Broken Together?
"Broken Together is a program that was designed to create a safe place to address and speak about the trauma we as incarcerated men carry each and every day, but is so taboo to talk about. Unfortunately, for men at our inception the narrative has been to internalize and discern, any pains and any discomfort. "Just deal with it," is often what echoes through the minds of so many little boys, who carry these unaddressed ailments into our adulthood. This results in a tea kettle effect. After the water has been allowed to boil for so long, steam comes fuming out the top. So many incarcerated men whose anger consumed them because of their inability or lack of tools to properly communicate distress. The concept of Broken Together was birthed after a young man with whom I was in segregation took his own life after days of speaking to one another through the wall that separated us. I wrote a story about this brother entitled "On the other side of pain," but it just didn't seem like enough. After years of facing my own pains and finding myself in Shawnee's dog program I knew I had to do more. While the experience of thriving in a program that taught me how to recognize pain without words was instrumental in who I had become I knew my life had a calling beyond my canine companions.
"After nearly 3 years of growing within this program and obtaining my US Dept of Labor apprenticeship certificate as an animal trainer God sent me down another path. I began a new journey at Stateville's minimum security unit. Upon my arrival there was not much to do other than work and as the saying goes, 'an idle mind is the devil's playground'. I prayed on how to help the situation and God delivered IDOC's greatest secret Demetria Johnson. She is the re-entry counselor here in MSU, but beyond that a huge advocate and believer in rehabilitation. Upon our first meeting I joked how counselors don't care about us and she refuse to allow that to go unaddressed. She told me "I take my job very seriously and care about the people I serve." To be honest I don't know I ever heard that from a person in her position, but I knew God had devised a plan.
After a couple conversations and the help of my friend co-facilitator Miller, we began to piece together the Broken Together project. I emailed Anne Knafl at the University of Chicago (whom I met through my brother Matthew a student at the university) and asked for her help. She gladly obliged and today we are now a proud program here at Stateville. The group of individuals who chose to embark on this journey in its infancy are courageous men who trusted to believe in their brethren and I take that responsibility very serious. The chance Dr. Anne Knafl took on highlighting the stories and humanizing the men many have cast aside is a miracle in itself, but our knight in shining armor is Demetria Johnson. She chose to believe in me and this idea and gave me the courage to believe in the ability to develop strength through vulnerability. In an environment where rehabilitation is a word often thrown around as an event, Mrs. Johnson returned the word to its origin and took action.
"Broken Together is the first program Stateville MSU has had in the last couple years. The program has been very well received and it has 8 participants who are truly growing emotionally. I work with another facilitator who is basically assisting me but a very essential part of the program as well. His name is Miller but we call him Jam. We have covered various topics such as integrity, compassion, empathy, sympathy, accountability, but more importantly creating a safe place to release the pains of yesterday and communicating versus being consumed by anger. I have took a different approach to my facilitating and open up our dialogues by first expressing my vulnerabilities with them. Initially, these guys were afraid to speak but I am so proud of how far they came. There are so many people who want to participate in our workshop but we kept the initial small to develop an intimacy amongst the brothers. Early on I posed the question who are you? I received various answers but my plan was toward the end of our 12 week course have them write an essay on who they are now? Many people here believe I changed the atmosphere here at MSU, but God is responsible for it all. Beauty for Ashes is what He promised and my ashes are becoming beautiful.
For all parties involved with the creation of Broken Together we thank you. We pray the compassion, empathy and understanding developed in our brotherhood becomes infectious and we can begin to change the narrative.
-Luis Cristobal Vega Sr
Staff Listing
Anne Knafl


Bibliographer for Religion, Philosophy, & Jewish Studies
Research & Learning - Humanities & Area Studies

Contact
aknafl@uchicago.edu
The Joseph Regenstein Library
Room 462
773-702-8442