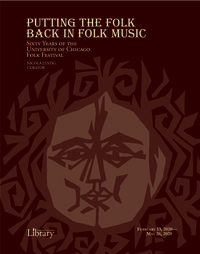 Curated by Nicola Lustig
From its first concerts in the early 1950s , the University of Chicago Folklore Society has been a major driving force in the nation for presenting exceptional traditional musicians from their source communities to new audiences. Its first festival, in February 1961, drew national attention for its outstanding artistic quality and traditionalist focus, in contrast to the singer songwriting and more distanced relationship to traditions of the folk music revival sweeping the United States. New York Times critic Robert Shelton spoke of "putting the folk back in folk music," at a time when "the popularization of folk music has led to many specious species of dilution and hybridization." The Early Fests featured such legendary musicians as Ralph and Carter Stanley, Elizabeth Cotten, Roscoe Holcomb and Willie Dixon. John Cohen, a noted traditional folk music researcher, photographer and filmmaker, shaped the programming of the first festivals while also performing at the Festival with the New Lost City Ramblers for many years.
The Folk Fest continued to thrive through the rest of the 20th century, with widespread community support, enthusiastic audiences for concerts and workshops and the presentation of more diverse traditions. Uniquely among UChicago student organizations it reaches beyond the quadrangles to engage neighborhood volunteers from Hyde Park along with folklorists and folk music enthusiasts from near and far, alumni and both College and graduate students. Over the years, a broader spectrum of traditions have been presented beyond the African American blues and gospel, Appalachian and Cajun singers and musicians of the early years. The 1977 Chicago Ethnic Arts Project of the American Folklife Center (AFC) of the Library of Congress documented musicians who performed at the Festival.within their neighborhood context. The AFC collaborated in developing this exhibition in association with their current initiative to provide documentation from the 1977 project to educational and cultural institutions throughout Chicago.
While much has changed since the 1960s, when Folklore Society members would road trip down South to discover and recruit the best musicians, we still strive to bring the highest quality musicians representing America's cultural mosaic right here in Mandel. The Festival takes place in deepest winter, with magic moments heating up the room during Saturday daytime music jams and workshops in Ida Noyes, a bagpiper processing through the aisles, and musicians on stage performing old songs deeply grounded in tradition along with new compositions created within the conventions of their community's traditions. Over the years, popular interest in traditional folk music has waxed and waned, while the Festival resiliently keeps to its time tested format while continuing to introduce new musicians from a wide array of cultures. In recent years, we've worked to diversify our acts, bringing both gender diversity and non-Western traditions to our stage. This year, we're excited to welcome a Mariachi group, Charangueo musicians, and a Metis fiddle group, in addition to Cajun , Bluegrass and early country music bands.