An Original Theory or New Hypothesis of the Universe
Born on 22 September 1711, in Byers Green, county Durham, Thomas Wright obtained an early education focused in mathematics, rather than languages, due to a speech impediment.  Early in his career he enjoyed the patronage of Richard Lumley, second earl of Scarbrough.  Wright earned a living on the edge of society as a tutor and as a landscape gardener in later years, before retiring in 1763 to his studies.  Wright died at home on February 22, 1786.
In 1750, Wright published the book for which he is most famous, An Original Theory of the Universe. The work is richly embellished with engraved illustrations on dark backgrounds and fragments of poetry.  In the work he concluded that the must be arranged in a disc or grindstone, or else in a spherical shell.  He believed the sun was in the middle of the layer, and that when looking in the plane of the grindstone one sees a multitude of stars, the Milky Way.  The work did not attract the attention of astronomers at the time.  After the spiral shape of the galaxy became accepted after the work of William Herschel in the nineteenth century, Wright's grindstone was acknowledged as a precursor theory.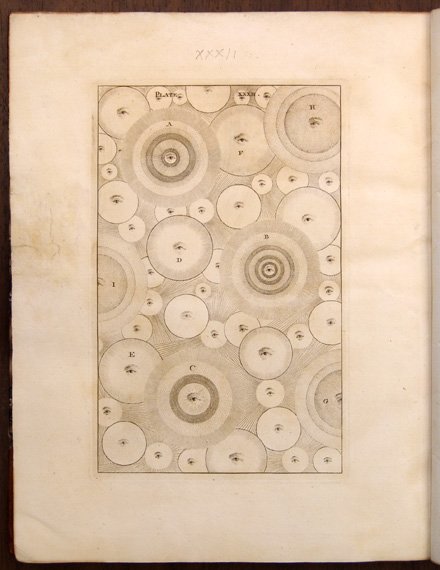 Page from: An Original Theory or New Hypothesis of the Universe,
 Wright, Thomas. 1750. An original theory or new hypothesis of the universe, founded upon the laws of nature, and solving by mathematical principles the general phænomena of the visible creation; and particularly the via lactea. London: Printed for the author. Special Collections Research Center, University Of Chicago.  QB 42 W93 1750
Page from: An Original Theory or New Hypothesis of the Universe,
Wright, Thomas. 1750. An original theory or new hypothesis of the universe, founded upon the laws of nature, and solving by mathematical principles the general phænomena of the visible creation; and particularly the via lactea. London: Printed for the author. Special Collections Research Center, University Of Chicago.  QB 42 W93 1750