John Marshall
John Marshall (1755-1835) served as the Chief Justice of the United States Supreme Court from 1801 to 1835.
Portrait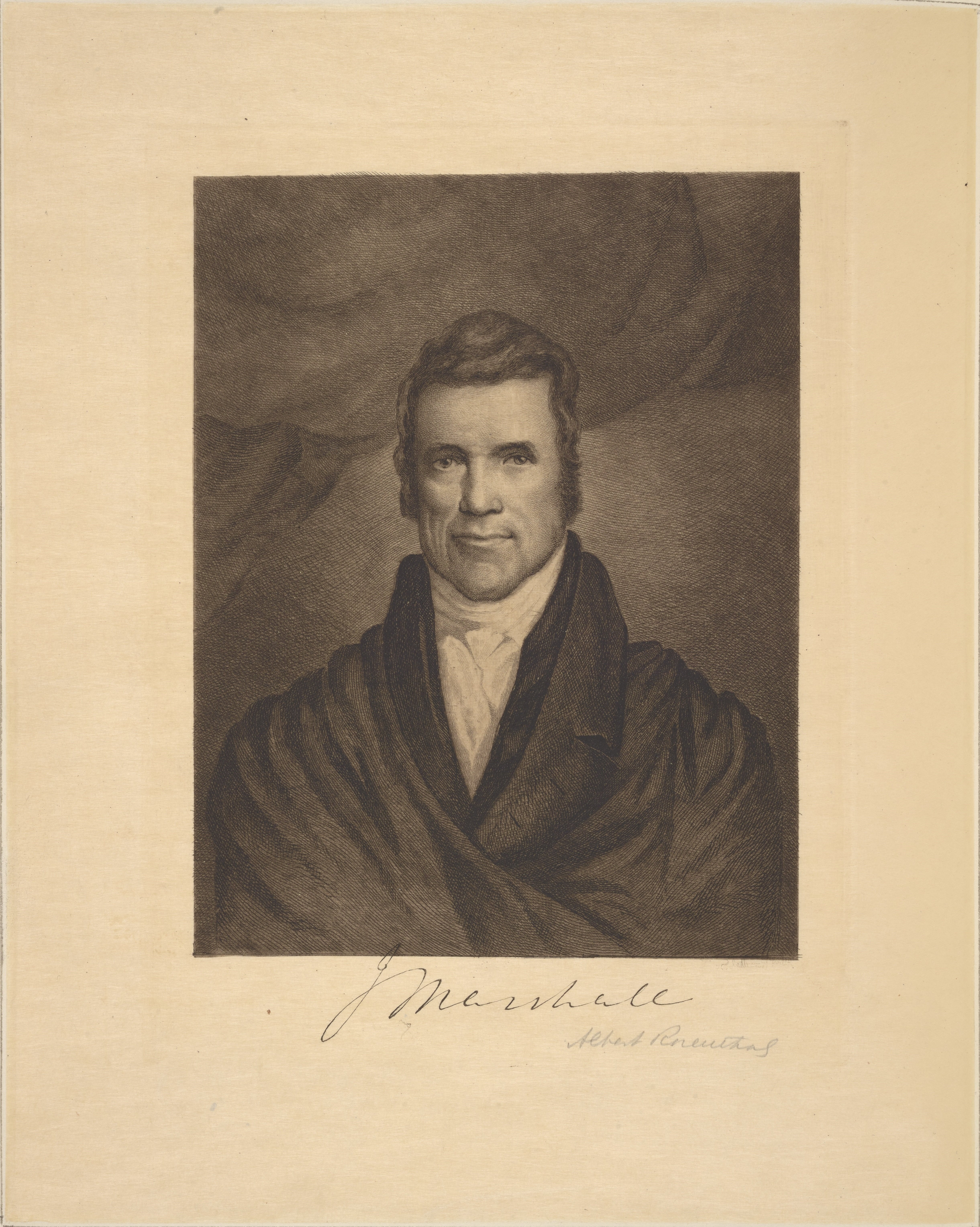 Signature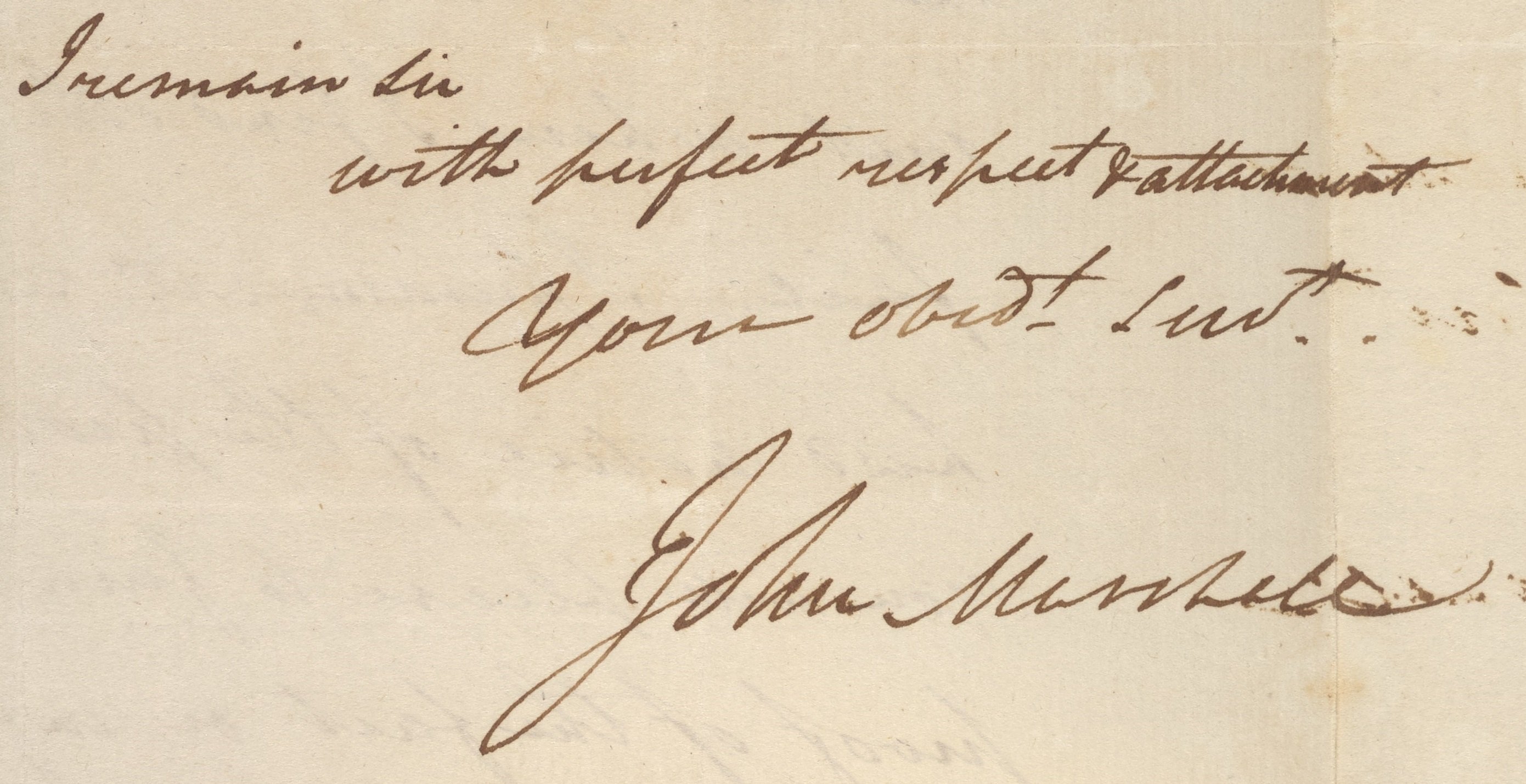 John Marshall Signature Detail
The Document
John Marshall to George Washington, 26 March 1789, Page 1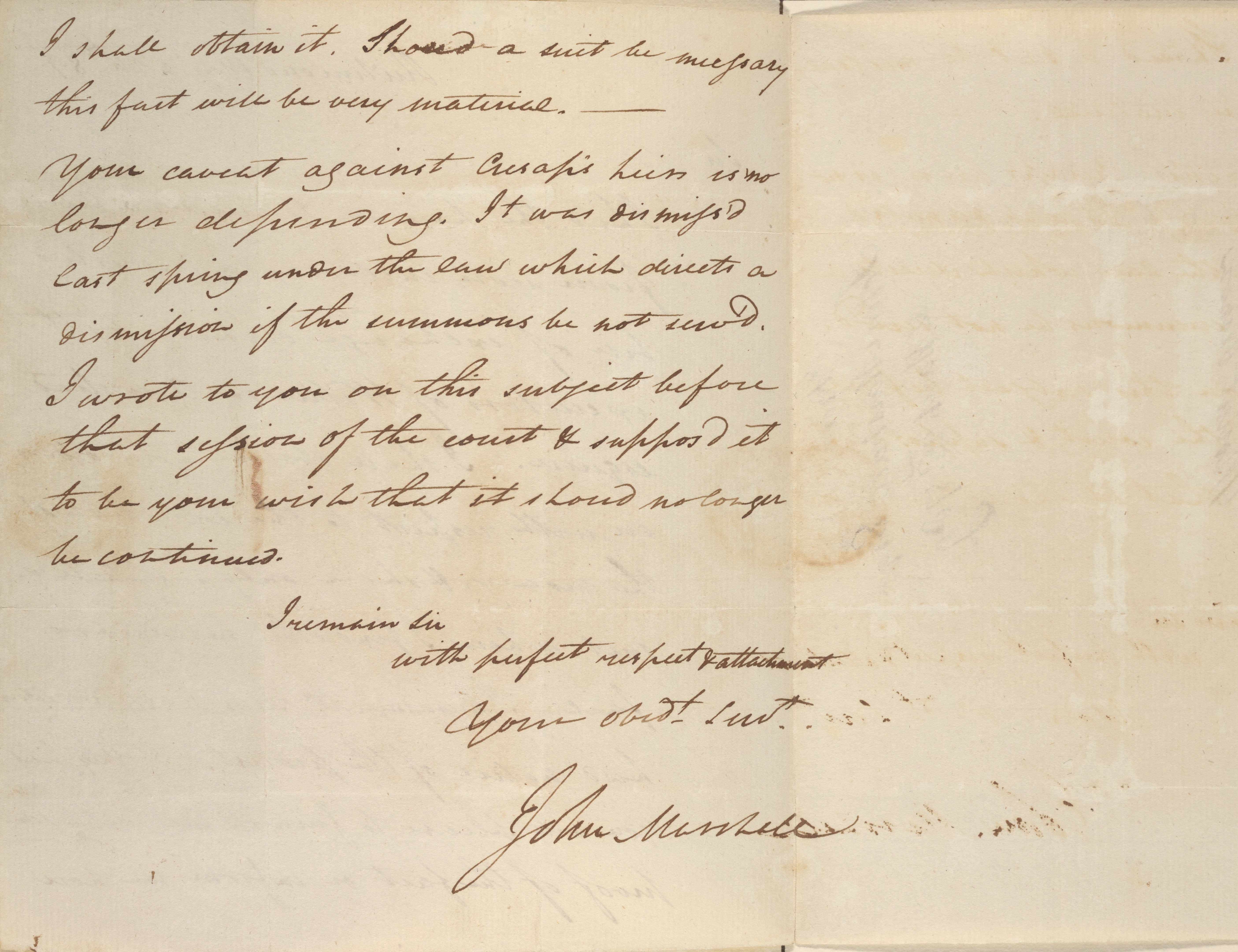 John Marshall to George Washington, 26 March 1789, Page 2
Transcription of the Letter:
Richmond March 26th 89
Sir
I had the honor to receive a letter from you enclosing a protested bill of exchange drawn by the executors of William Armstead esquire. I shall observe your orders, sir, with respect to the collection of the money, & shall only institute a suit when I find other measures fail. I presume Mr. Armstead's executors had notice of the protest. If they had, you will please to furnish me with some proof of the fact or inform me how I shall obtain it. Should a suit be necessary this fact will be very material.
Your caveat against Cresap's heirs is no longer depending. It was dismissed last spring under the law which directs a dismission if the summons be not served. I wrote to you on this subject before that session of the court and supposed it to be your wish that it should no longer be continued.
I remain Sir
With perfect respect & attachment
Your obedt servt
John Marshall
About This Document
The Practice of Law and the Ratification of the Constitution
At the time that John Marshall wrote this letter to George Washington, Marshall was in private law practice in Richmond, and involved in public life in Virginia. In the year before this letter was sent, Marshall served as the Recorder of the Hustings Court in Richmond, and also served as a delegate to the Virginia convention to ratify the U.S. Constitution.
For more about the practice of law in the early United States, see:
For more about the ratification of the U.S. Constitution, see:
The Impending Inauguration of the First President of the United States
At the time that he received this letter from Marshall, George Washington was likely preparing for his inauguration as the first President of the United States, which took place on April 30, 1789, one month after this letter was sent. As the letter indicates, however, he was also busy trying to resolve legal disputes regarding a debt that he was owed and land that he held a claim to in the Ohio River Valley.
For more about George Washington's inauguration and the early years of his presidency, see:
Carol Berkin, A Brilliant Solution: Inventing the American Constitution (New York: Harcourt, 2002).

Contains a chapter on Washington's inauguration.

Forrest McDonald, The Presidency of George Washington (Lawrence, KS: University Press of Kansas, 1974).
George Washington, The Writings of George Washington: Being his Correspondence, Addresses, Messages, and Other Papers, Official and Private, Selected and Published from the Original Manuscripts; With a Life of the Author, Notes and Illustrations, ed. Jared Sparks (New York: Harper & Brothers, 1847).
For more about the legal disputes discussed in this letter, see:
"From George Washington to John Marshall, 17 March 1789," Founders Online, National Historical Publications & Records Commission, U.S. National Archives and Records Administration, accessed July 8, 2019, https://founders.archives.gov/documents/Washington/05-01-02-0309.

The annotations to this letter at Founders Online includes background information on these two legal disputes.
The letter highlighted in this exhibit, from March 26, 1789, is missing from the correspondence between Marshall and Washington available in Washington's papers at Founders Online. While we do not know how the letter came to be in this bound collection, we did find one interesting bit of history about it: a record of a sale of the letter in 1901:

Luther S. Livingston, American Book Prices Current: Volume 7: Record of Books, Manuscripts, and Autographs Sold at Auction in New York, Boston, and Philadelphia, From September 1, 1900, to September 1, 1901, With the Prices Realized (New York: Dodd, Mead, and Company: 1901), 579.
---
About John Marshall
John Marshall served as the fourth Chief Justice of the U.S. Supreme Court. He was nominated by President John Adams to the seat vacated by Oliver Ellsworth in 1801. Chief Justice Marshall is known for authoring many important opinions that transformed the role of the Court, including the opinion in Marbury v. Madison, 5 US 137 (1803). As Chief Justice, he also presided over the treason trial of Aaron Burr. Before his service as Chief Justice, Marshall served as the Minister to France, a U.S. Representative from Virginia, and the U.S. Secretary of State.
For more about the Marshall Court, see:
George Lee Haskins and Herbert A. Johnson, The Foundations of Power: John Marshall, 1801-1815 (New York: Macmillan, 1981).
G. Edward White, The Marshall Court and Cultural Change, 1815-35 (New York: Macmillan, 1988).
Herbert A. Johnson, The Chief Justiceship of John Marshall, 1801-1835 (Columbia, SC: University of South Carolina Press, 1997).
For more about the treason trial of Aaron Burr, see:
Peter Charles Hoffer, The Treason Trials of Aaron Burr (Lawrence, KS: University Press of Kansas, 2008).
Michael T. Davis, Emma Macleod, and Gordon Pentland, eds., Political Trials in an Age of Revolutions: Britain and the North Atlantic, 1793-1848 (Cham, Switzerland: Palgrave Macmillan, 2019).
For more about John Marshall's life and career, see: