Salmon Portland Chase
Salmon Portland Chase (1808-1873) served as the Chief Justice of the United States Supreme Court from 1864 to 1873.
Portrait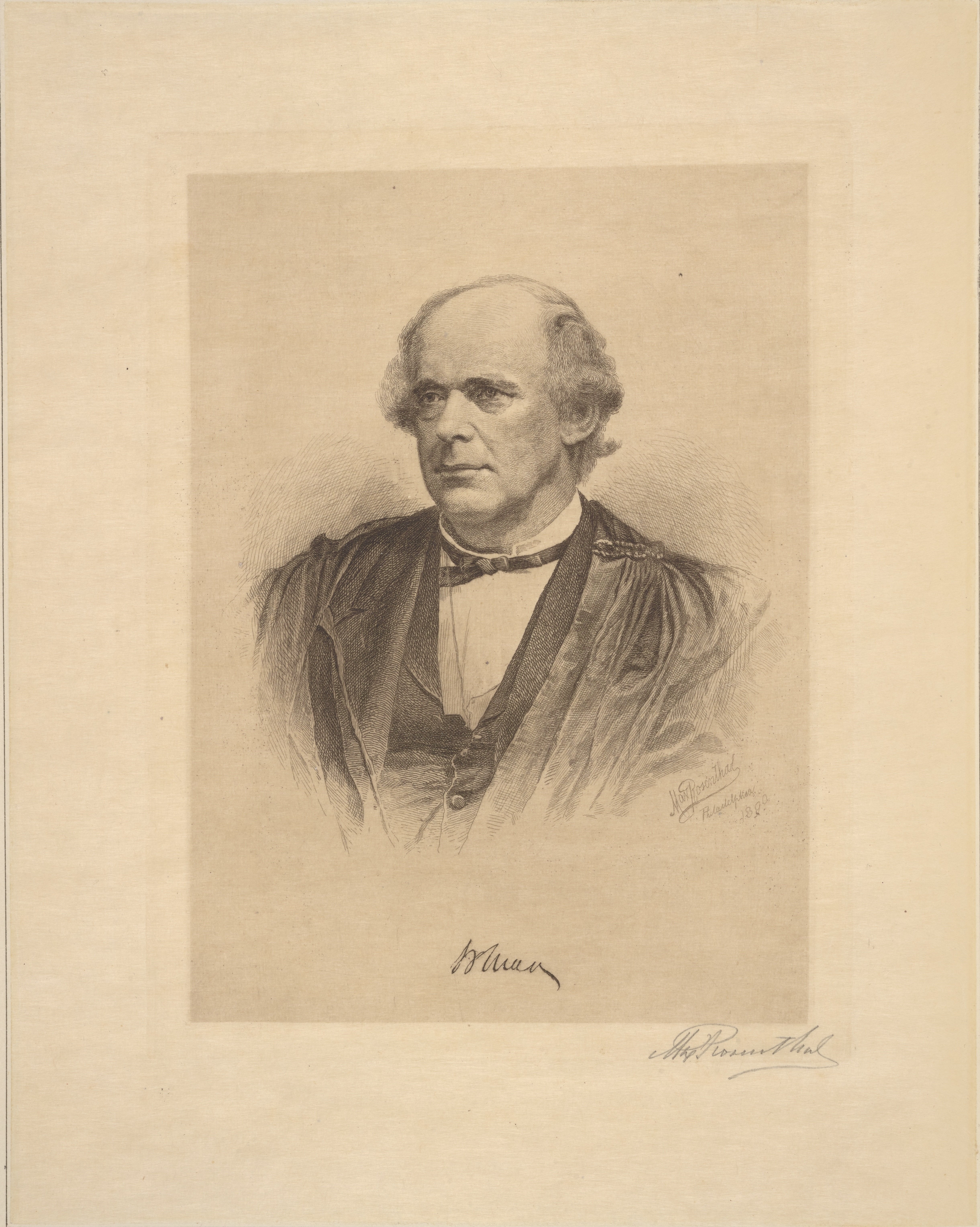 Photograph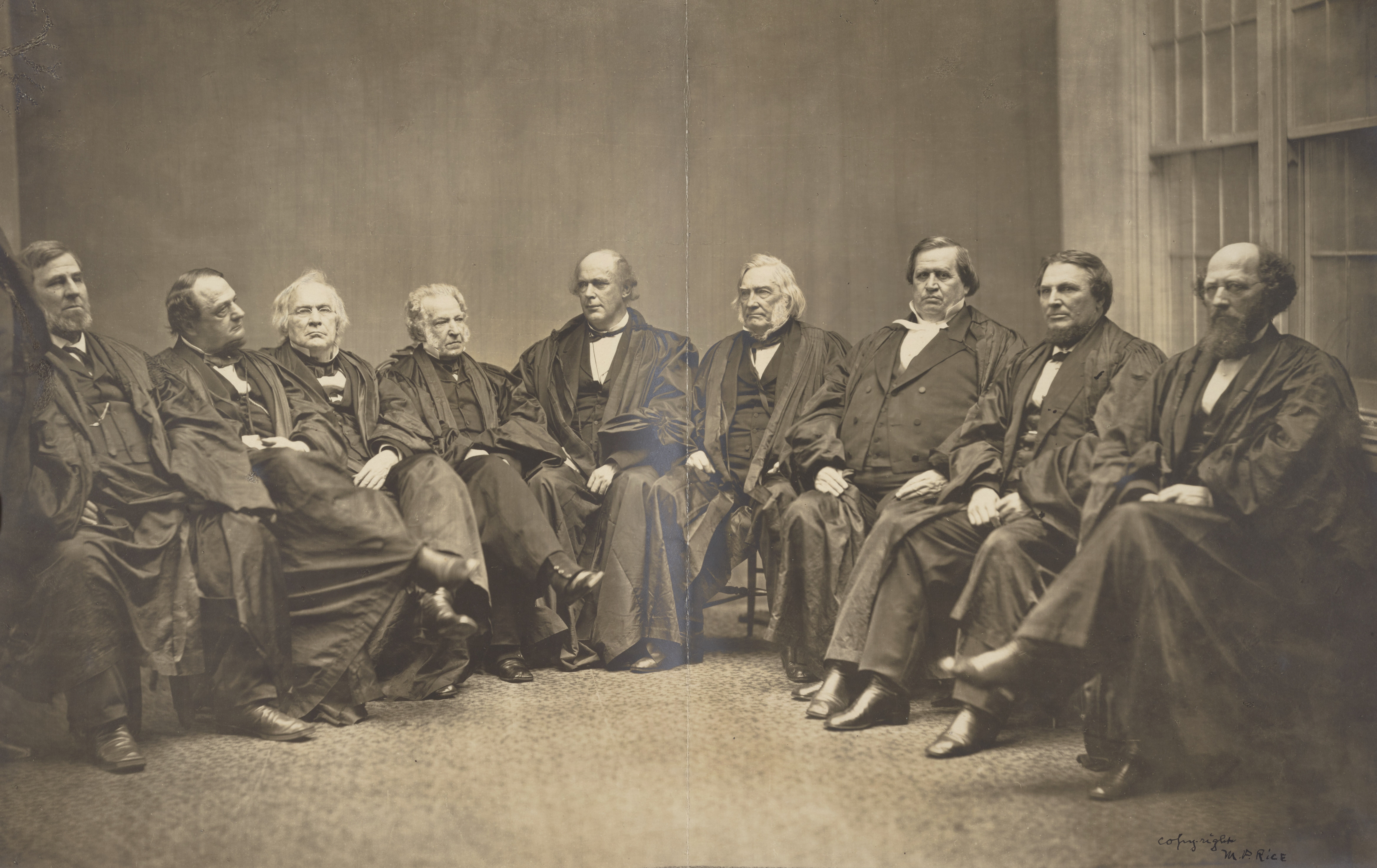 The Supreme Court of the United States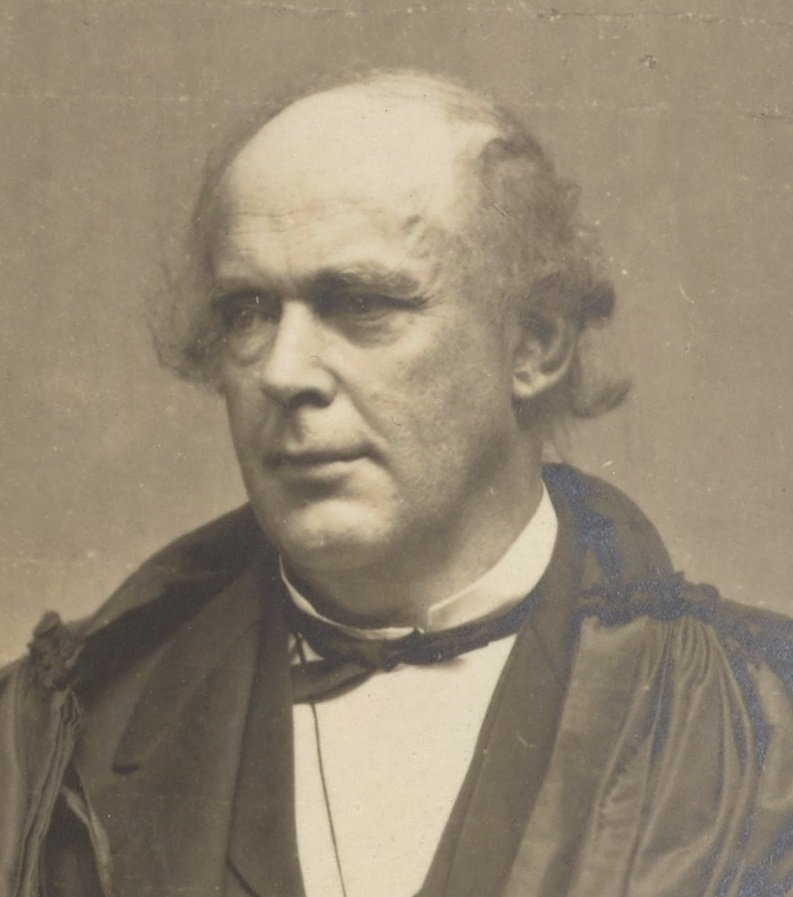 Signature

Salmon Portland Chase Signature Detail
The Document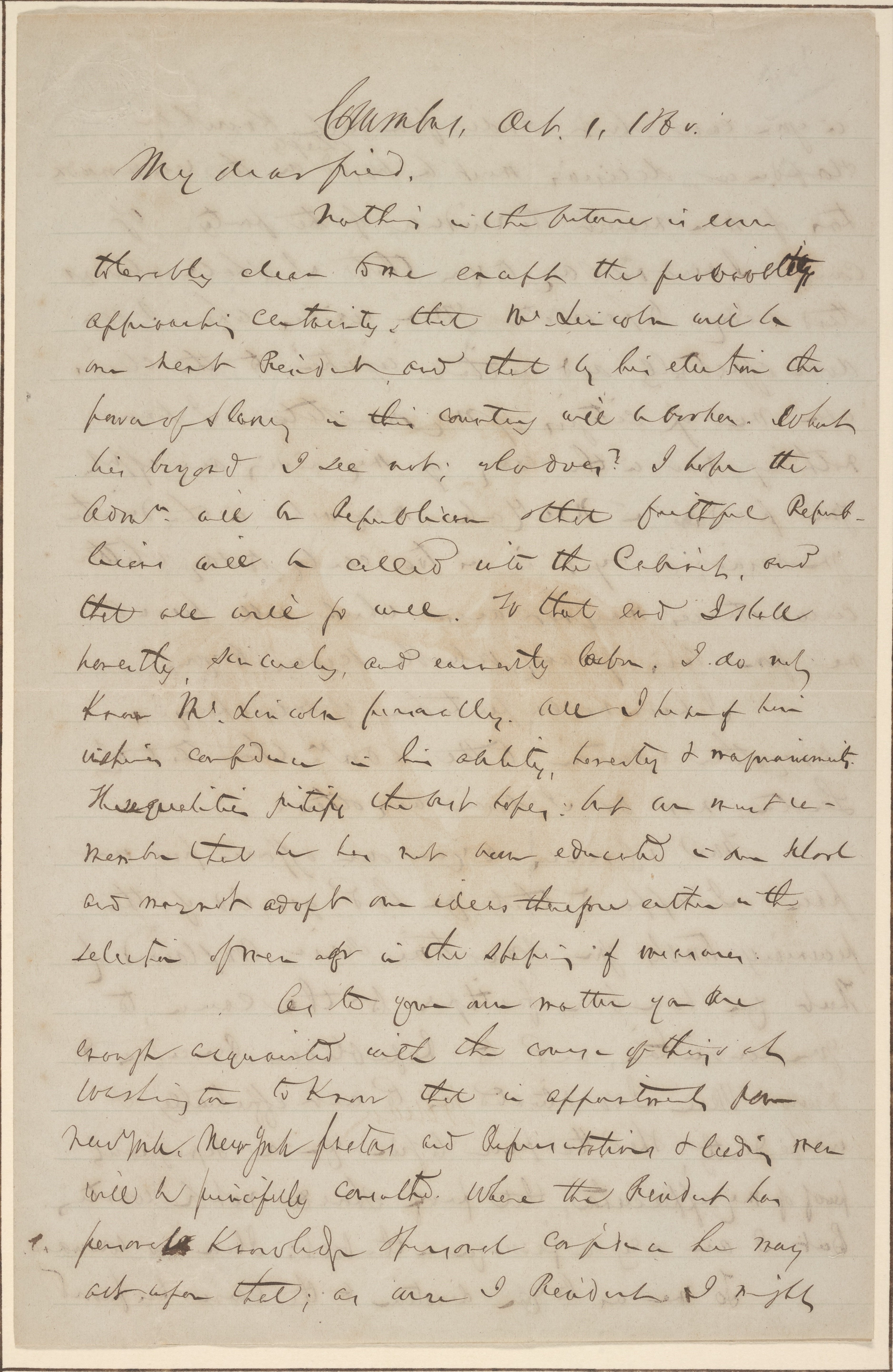 Salmon Portland Chase to E. A. Stansbury, 1 October 1860, Page 1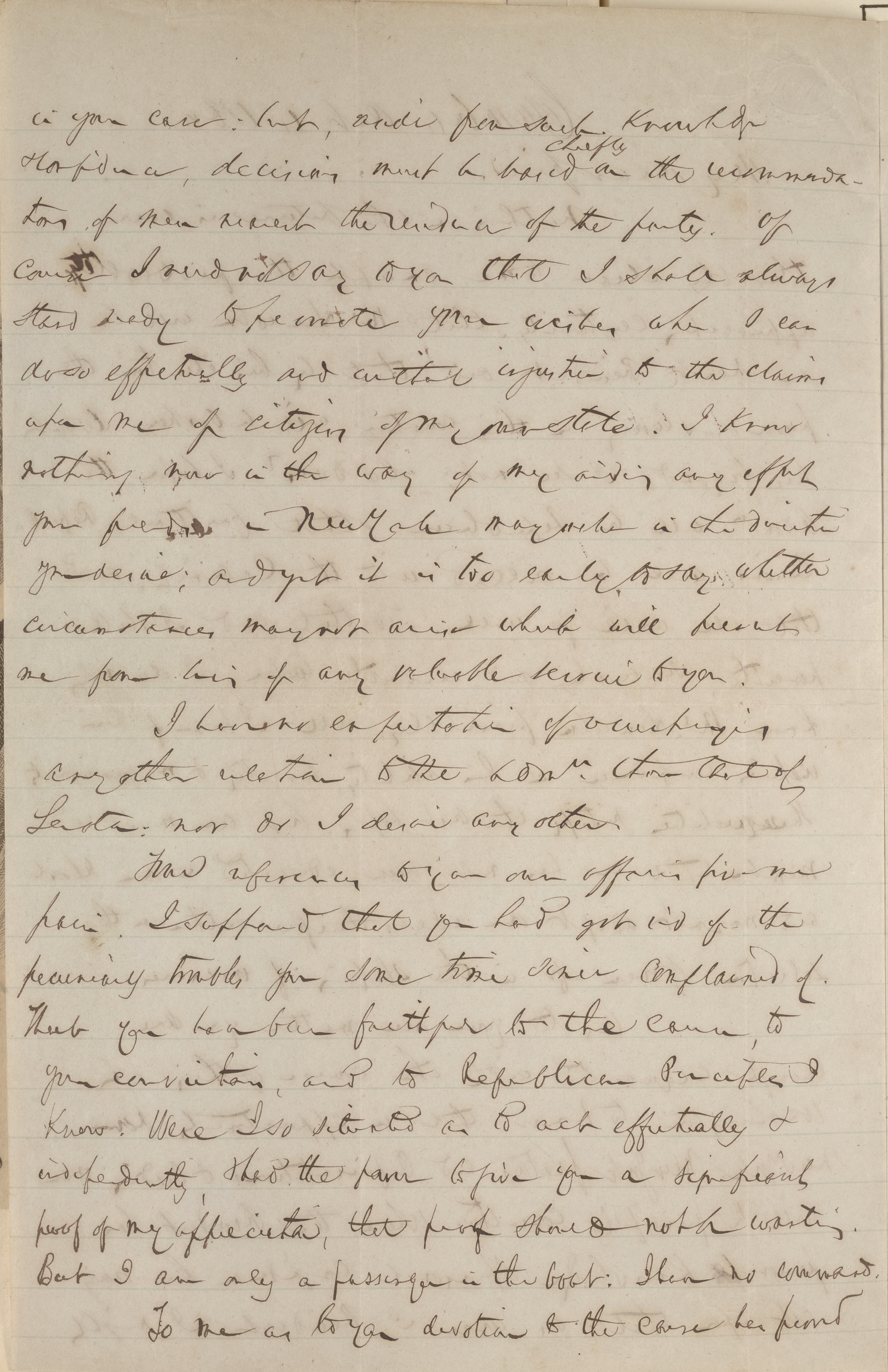 Salmon Portland Chase to E. A. Stansbury, 1 October 1860, Page 2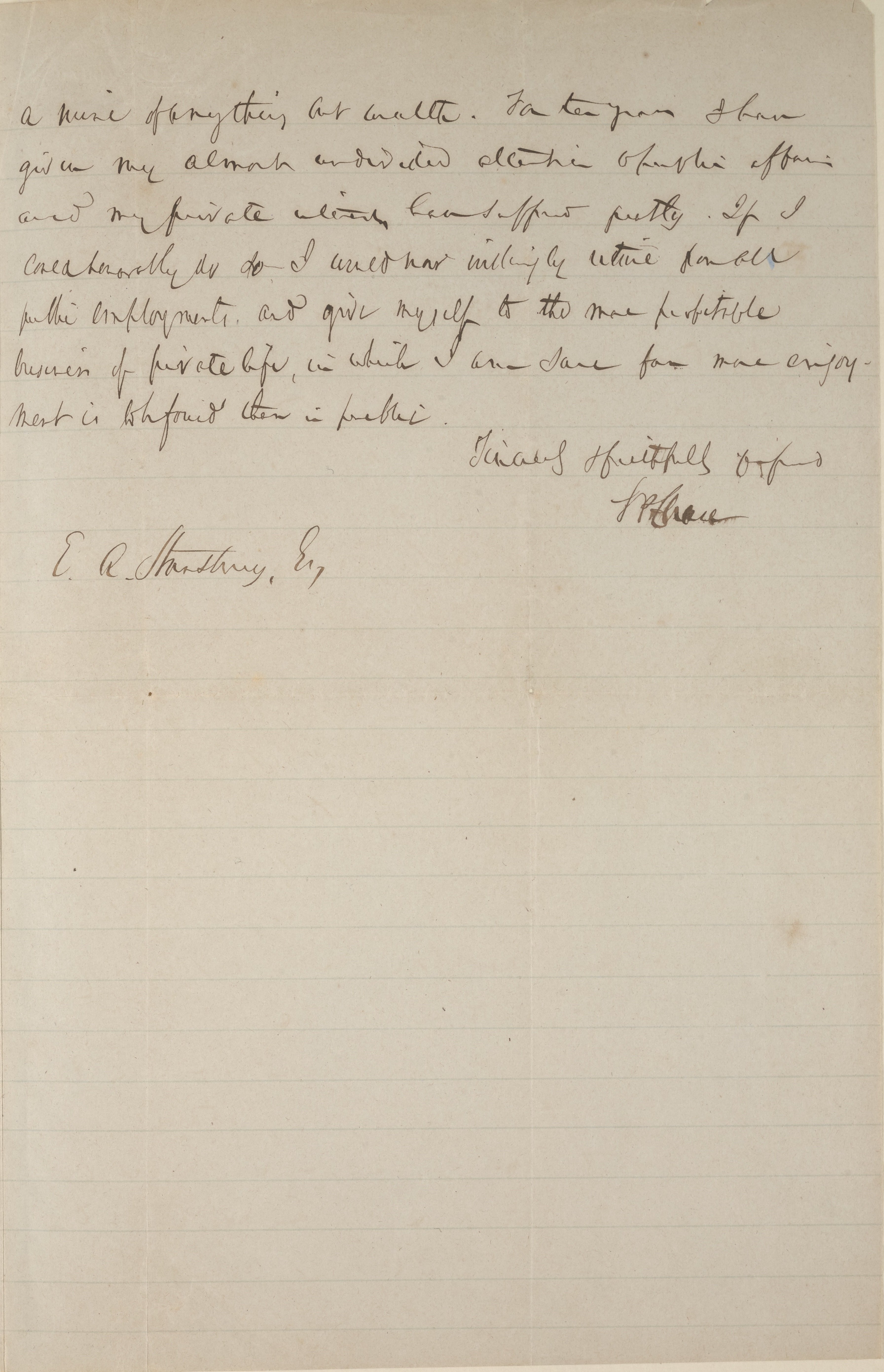 Salmon Portland Chase to E. A. Stansbury, 1 October 1860, Page 3
Transcription of the Letter:
Columbus, Oct. 1, 1860.
My dear friend,
Nothing in the future is even tolerably clear to me except the probability, approaching certainty, that Mr. Lincoln will be our next President, and that by his election the power of slavery in this country will be broken. What lies beyond I see not; who does? I hope the Adm.n will be Republican, & that faithful Republicans will be called into the Cabinet, and that all will be well. To that end I shall honestly, sincerely, and earnestly labor. I do not know Mr. Lincoln personally. All I know of him inspires confidence in his ability, honesty, & magnanimity. These qualities justify the best hopes, but we must remember that he has not been educated in our school and may not adopt our ideas, therefore, either in the selection of men or in the shaping of measures.
As to your own matter you are enough acquainted with the course of things at Washington to know that in appointments from New York, New York Senators and Representatives & leading men will be principally consulted. Where the President has personal knowledge and personal confidence he may act upon that; as were I President I might in your case: but, aside from such knowledge & confidence, decisions must be based chiefly on the commendations of men nearest the leader of the party. Of course I [send and say] to you that I shall always stand [ready] to promote your wishes when I can do so effectually and curtail injustices to the claims after me of citizens of my own state. I know nothing now in the way of my aiding any effort your friend in New York may make in the direction you desire; and yet it is too early to say whether circumstances may not arise which will prevent me from being of any valuable service to you.
I have no expectation of [?] in any other election [of] the adm.n than that of Senator: nor do I desire any other.
[Your reference] to your own affairs [give] me pain. I supposed that you had got rid of the pecuniary troubles you some time since complained of. [That] you have been faithful to the cause, to your convictions, and to Republican [Principles] I know. Were I so situated as to act effectually & independently, & had the power to give you a [?] proof of my appreciation, that proof should not be [wanting]. But I am only a passenger in this boat: I have no command.
To me [a] loyal devotion to the cause has proved a [?] of anything but wealth. For ten years I have given my almost undivided attention to public affairs and my private clients have suffered greatly. If I could honorably do [it] I would have willingly retired from all public employments, and given myself to the more profitable business of private life, in which I am sure far more enjoyment is to be found than in public.
Sincerely & faithfully your friend
SPChase
E.A. Stansbury, Esq
About this Document
About the Election of 1860 and the Impending Civil War
At the time that he wrote this letter, Salmon Portland Chase was serving as the Governor of Ohio. Just a month after he sent this letter, Abraham Lincoln would indeed be elected President of the United States in the election of 1860. Chase himself had initially tried to secure the Republican nomination, but when he was unable to garner enough support at the Republican National Convention, threw his support behind Lincoln.
For more about the Election of 1860 and the Impending Civil War, see:
Follow this link to search the University of Chicago Library catalog for the subject heading "Presidents -- United States -- Election -- 1860".
"Presidential Election of 1860: A Resource Guide," Web Guides, Virtual Programs & Services, Library of Congress, accessed July 17, 2019, https://www.loc.gov/rr/program/bib/elections/election1860.html.
"Civil War," Military Records, Research, National Archives and Records Administration, accessed July 17, 2019, https://www.archives.gov/research/military/civil-war.
---
About Salmon Portland Chase
Salmon Portland Chase began his career as an attorney in private practice in Ohio. Dedicated to the cause of abolition, he became known for defending people who had escaped slavery. He served one term in the U.S. Senate before returning home to serve as the Governor of Ohio. After his failed attempt at the Republican nomination in 1860, Chase then decided to run for the U.S. Senate again, and won. He would soon leave his seat in the Senate, however, to accept the position of Secretary of the Treasury in Lincoln's cabinet in 1861.
After the death of Roger Brooke Taney in 1864, President Lincoln nominated Chase to serve as Chief Justice of the U.S. Supreme Court. He was confirmed in December of 1864 and served until his death in 1873.
For more about Salmon Portland Chase's life and career, see: