Edward H. Levi (1911- )
AB 1932, JD 1935
Assistant Professor of Law
1936-1940
Professor of Law 1945-1975
Dean of the Law School
1950-1962
Provost 1962-1968
President 1968-1975
Karl N. Llewellyn Distinguished
Service Professor, 1975-1977
Glen A. Lloyd Distinguished
Service Professor 1977-1986

Edward Hirsch Levi was a singular product of the University of Chicago. Educated at the University beginning with kindergarten, Levi attended the Laboratory Schools, the College, and the Law School. His family ties to the University extended back to its opening in 1892, when his grandfather Rabbi Emil G. Hirsch was appointed to the faculty of the Divinity School in the field of rabbinical literature and philosophy. His wife, Kate Sulzberger, had also grown up in Hyde Park and attended the Lab Schools, and her father was a University trustee.
After graduating from law school, Levi spent a year as a Sterling Fellow at Yale, then returned to the University of Chicago as assistant professor of law. In 1940 he moved to Washington to work in the Justice Department, specializing in antitrust law. After the war he became involved with the atomic scientists who sought civilian control of nuclear energy and was one of the principal draftsmen of the McMahon Atomic Energy Control Law of 1946. He also published one of his best-known works, An Introduction to Legal Reasoning.
In 1950 Chancellor Hutchins named Levi to be dean of the Law School, and Levi led the school through a period of unprecedented growth and development. Under the umbrella of the University's general development campaign of 1955-1957, Levi created a separate campaign for the Law School that generated funds for a new campus south of the Midway as well as a strengthened and expanded faculty. Although it trained many practicing attorneys, the Law School like other professional schools at the University focused on research and higher education in its field, and Levi's appointments to the faculty made this clear. Legal scholars such as Karl Llewellyn and Soia Mentschikoff brought new prominence to the school, and the addition of specialists in economics and sociology reinforced the connection between law and other disciplines.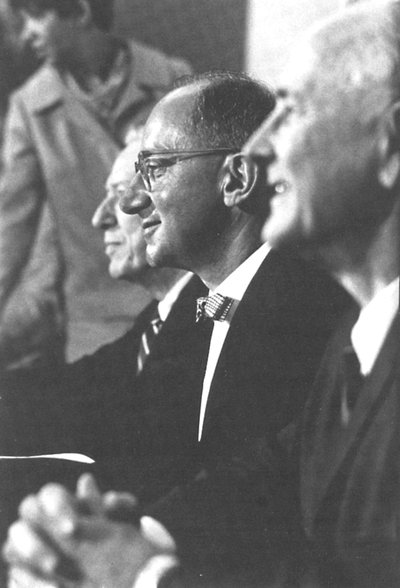 The University of Chicago exists for the life of the mind. Its primary purpose is intellectual. It exists to increase the intellectual understanding and powers of mankind. The commitment is to the powers of reason.
—Edward H. Levi
Levi's role at the University expanded as he took over the provost's office under President Beadle. The Beadle/Levi years saw plans to expand facilities in every phase of the University, from scientific research labs to offices to libraries to a proposed "student village." While provost, Levi also served for a year as acting dean of the College, overseeing a complete revamping of the College curriculum and reorganizing the growing numbers of electives and tracks into a "Common Core" that reemphasized the role of general education, the hallmark of the College during the Hutchins administration. The College faculty was restructured into divisions which mirrored the graduate divisions--biological sciences, humanities, physical sciences, and social sciences--and a fifth "New Collegiate Division" which offered interdisciplinary programs.
Levi was thus the obvious choice to succeed George W. Beadle when Beadle retired in 1968. He represented the institution in a uniquely personal way. A press release characterized him as dressing "conservatively, usually in dark suits. He smokes a pipe and cigars, but not cigarettes. His drink is bourbon or a martini. He drives a battered old car to work from his grey, wooden-framed house in Hyde Park-Kenwood . . ." Journalist and alumnus John Gunther wrote that "his touch, his attitudes, his slight figure and flashing eyes, the mobility of his good looks, all indicate sophisticated refinement, but his record - he is an old Hutchins man - is that of a Young Turk."
As president, Levi became an eloquent spokesman for the University of Chicago and for the ideals of higher education. He fought against contemporary trends to make the university a "knowledge machine-a part of the education-industrial power complex." Its goals were not social or political, but intellectual:
The University of Chicago... does not exist to increase the earning power of its students. It does not exist to train the many technicians needed for our society, nor to develop inventions important for industry.
While it is and should be a good neighbor, it does not exist to be a redevelopment agency for the South Side of Chicago.
Its primary purpose is not to be a college where students can find themselves free of the pressure of the discipline of learning.
It does not exist to be a series of experimental political and social communities, nor is its institutional purpose to be found in the leadership by it of new liberal or conservative causes.
. . . while its faculty and students will individually respond to a variety of political and social commitments, the purpose of the University continues to be intellectual, not moral .
. . . Its greatest service is in its commitment to reason, in its search for basic knowledge, in its mission to preserve and to give continuity to the values of mankind's many cultures. In a time when the intellectual values are denigrated, this service was never more required.
Levi took office a few months after the riots which accompanied the Democratic Convention in August 1968. Students picketed outside the Conrad Hilton during his inauguration dinner. In January 1969, after demands were rebuffed to reappoint sociology professor Marlene Dixon and allow students to participate in faculty hiring decisions, a group of students took over the Administration Building. Levi's actions were watched closely since many campuses faced similar protests. While refusing to call in police or use force to get the students to leave, Levi also refused to capitulate to their demands. He consistently referred to the higher goals of academic freedom and discussion which should govern action on campus. After two weeks of occupation without result, the students voted to leave the building. University disciplinary committees summoned 165 students for hearings, expelling 42 and suspending 81 more. Reflecting later, Levi commented, "There are values to be maintained. We are not bought and sold and transformed by that kind of pressure."
After Watergate had emptied many offices in Washington and President Gerald Ford began making replacements, Levi was asked to become U.S. attorney general. Upon winning Senate confirmation, Levi resigned as president and moved to Washington in February 1975.
In 1977 Levi returned again to the campus where he had spent most of his life. Honors and distinctions followed, including the presidency of the American Academy of Arts and Sciences, the first time that the position had been conferred upon anyone outside of New England. Having resumed his teaching in the Law School and the College, Levi maintains an active presence in the University community.