How to Reserve a Law Library Study Room
Step 1
Log in using your CHICAGOLAW username and password.
Step 2
Once you log in, select "Library Study Rooms" from the list of available locations in the left frame:
Step 3
Click on the box corresponding to the room and time you wish to make the reservation. The following screen will open: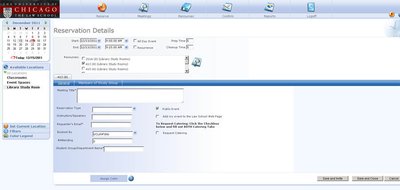 Step 4
Make sure that the date is correct and choose the time of your reservation. You can choose the times by clicking the arrows and choosing from the drop down list or typing the time in directly. Note that you can check the "Recurrence" box next to the Start and End times (and fill out a form) if this is a recurring reservation. Also note that, by default, 5 minutes of "Prep Time" and "Cleanup Time" are added to each reservation. Please change this to zero to avoid conflicts with other room reservations.
"Meeting Title" and "Requester's Email" are required fields. For "Meeting Title," type something like, "Study Group Meeting." You may include other information, such as your name or the name of your class, but be aware that this title will appear on the public version of the room reservation calendar. If you do not want any information about your room reservation to appear on the public version, uncheck the box "Public Event."
You should not fill out any of the other fields. Just click the "Save and Close" button to submit the reservation.
If you have any questions about reserving a Law Library conference room, Ask a Law Librarian.