Judith Nadler's Groundbreaking Ceremony Remarks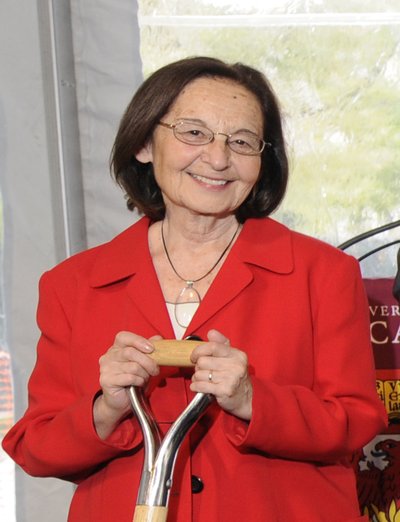 "Groundbreaking"
For us today, the word "groundbreaking" stands for far more than the literal breaking of ground.  It stands for groundbreaking University of Chicago research, which requires rich resources and thrives in beautiful spaces.  It stands for the groundbreaking synergy between technology and architectural design that will make the Mansueto Library unique.  It stands for our faculty and Board of Directors' groundbreaking wisdom in choosing to invest in a future that is difficult to predict.  And it stands for the groundbreaking generosity of two alumni, Joe and Rika Mansueto, who love the University and want to share their positive Library experience with generations to come.

Close teamwork and partnership mark the preparations that have brought us to this point. Faculty members, architects, librarians and University administrators and staff joined in a multi-year planning process to envision and shape this library of the future. Together, we traveled to construction sites and met with colleagues and consultants to learn from their experience. In true Chicago fashion, we engaged in a thorough debate and deliberate process to consider our options.  Together, we chose a course that will achieve the greatest functionality via the most inspiring design. We learned from each other and about each other, refining our plans until we found the perfect solution.

I want to thank the faculty for their strong leadership and deep investment in the planning of this groundbreaking Library; the University administration and the Board of Trustees, for unfailing support; the architect and facilities team members for their vision and expertise, the knowledgeable library staff who have dedicated themselves to this process, and Joe and Rika Mansueto, who applauded the outcome and recognized its importance with their extraordinary gift to the University. We have started from different perspectives, and we have reached this groundbreaking day with a common voice.

The Joe and Rika Mansueto Library is built at a time when universities must make decisions about the future of their libraries, and when libraries must make unprecedented choices about the direction of their future. While other universities have found it necessary to do otherwise, we have had the wisdom and the resources to make an uncommon choice:  to build a new library at the heart of campus. We know that we are the better for it.

The Joe and Rika Mansueto Library will provide faculty and students with ready access to an extraordinary wealth of scholarly resources from all disciplines.  It will give us state-of-the-art laboratories and environments that will allow us both to preserve our physical collections and to digitize unique materials so that scholars from near and far can access them online.  And Helmut Jahn's bold design gives us a grand reading room that has the power to support and inspire groundbreaking research.

The state-of-the-art technology, enormous capacity, and magnificent spaces of the Joe and Rika Mansueto Library also enables us to rethink the use of Library spaces across campus and to develop Library programs that will meet the evolving needs and expectations of our faculty and students as the 21st century unfolds.  

I thank you for your participation in this groundbreaking work, and for joining us in celebrating this magnificent occasion!

Judith Nadler was Director and University Librarian at the University of Chicago.