Glass Dome
The Joe and Rika Mansueto Library's elliptical glass dome preserves the open space environment of the west lawn of the Joseph Regenstein Library. The lower portion of the dome is transparent to provide unobstructed visibility between inside and outside. The axis of the dome is slightly angled as a gesture toward the nearby landmark Henry Moore monument.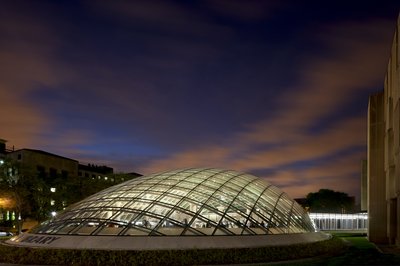 High performance Low E fritted glass provides shading from solar heat gain.  At the upper area of the dome, the glass incorporates 57% shading with a ceramic frit dot pattern applied to the interior of the external surface of the insulated glass. The high performance glass reject 73% of the solar heat while blocking 50% of the visible light and 99% of the UV light. As a result, the Grand Reading Room is flooded with daylight that is appropriately shaded to create a comfortable work environment.
The glass dome is supported by a light steel grid shell made up of 6-inch diameter high strength structural steel tubes parallel to the ellipse axis and spaced at approximately 6 feet in each direction. The steel grid is anchored to the concrete ring beam. The dome glass is supported above the steel tube grid at each intersection.
The dome was constructed in six phases. 
Dome pieces, including steel, aluminum, and glass components, were manufactured by Seele in Germany; the structural steel frame was assembled into sections in Germany for testing purposes and then disassembled.  Components were shipped gradually to Chicago.
Scaffolding was built over the ground floor to facilitate construction. It was elliptical in shape and rose in tiers, like a wedding cake.
Structural steel frame was installed.
Aluminum frame to support the glass was installed. 
Glass was installed.
Sealant and dome completion