Grand Reading Room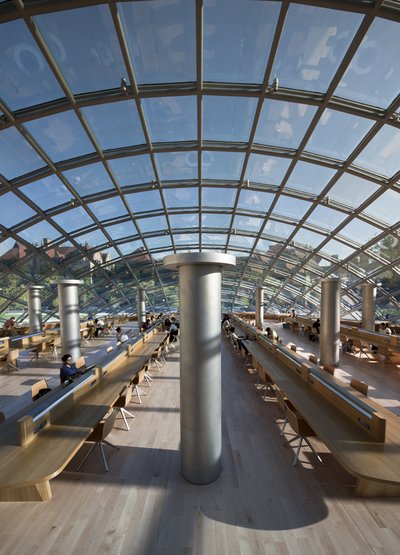 Located under the south side of the glass dome, the 8,000-square-foot Grand Reading Room has seating capacity for 180 users and is designed for quiet study and reading. 
Fifteen four-person tables are located around the perimeter of the room. These tables are equipped with task lighting and electrical outlets. The main portion of the room contains four long rows of reading tables. The outer rows are composed of seven interconnected four-person tables; the two inner rows are of eight interconnected four-person tables. These tables are equipped with fluorescent light fixtures, metal bars to which users can lock their laptops, electrical outlets and data connections. 
Designed by Yorgo Lykouria of Lykouria Ltd., a London based architectural design studio, in collaboration with architect Helmut Jahn, the tables and chairs are made of European white oak with a stainless steel trim. 
The Grand Reading Room also contains three glass research cubicles to the immediate west of the Circulation Service Center. Two of these cubicles will be assigned by the Circulation Supervisor to users who need to consult a large number of volumes from Mansueto over the course of several days, for a maximum period of two weeks. A book truck full of bound volumes can be housed in a research cubicle. The cubicles will be locked when not in use. A third cubicle operates as a listening station equipped with a CD player, turntable, cassette player and headphones for those making use of the Library's Recordings Collection. 
A Canon color multifunction device is located across from the research cubicles and can be used to copy, scan, or print.
The Grand Reading Room has also been configured with a secure wireless network.