Library Services in Canvas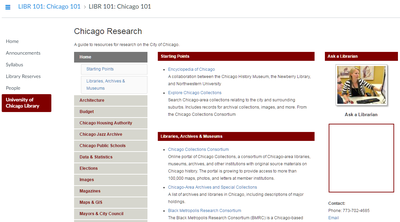 Library Tool in Canvas
The "University of Chicago Library" tool in Canvas displays a research guide matched automatically to your course by department or the custom guide for your course (more information below). Guides display recommended resources as well as contact information for relevant Library experts.

Learn how to turn on the tool in Canvas.

Contact Ask a Librarian to request changes to the tool in your Canvas course site.
Custom Research Guides for Your Courses
Librarians can create customized library research guides for your courses, highlighting relevant print and online resources. The Library will provide you with a URL for the guide, which can be linked from your Canvas site.
View examples of custom research guides for courses.
If you are interested in a custom research guide for your course, contact the subject librarian for your area of teaching.
Course Reserves
Course reserves are readings that you assign or recommend to students in your courses. Articles, book chapters, and essays can be made available through your Canvas site.
Learn more about course reserves and place course reserves requests.