Designing Library Assignments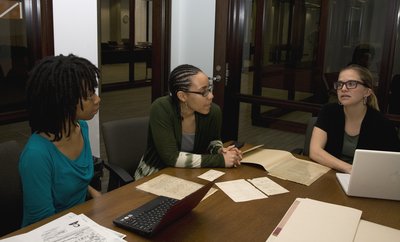 Putting Library Research in Context
An effective library assignment does more than just get students into the Library and into the stacks. It should, ideally, both flow from and advance the goals of the course as a whole. While "scavenger hunt" style assignments have been used to introduce their students to a variety of sources, unless designed carefully, these assignments do not always provide the kind of experience that make the sources meaningful to students or help them understand how they might use these materials for their research. The most effective library assignments are those that directly relate to texts or other assignments.
How Librarians Can Help
Subject bibliographers or reference librarians can help faculty design assignments meaningful to students and also can advise faculty if the assignment needs advanced preparation. In addition, the librarians can be aware of the project and be prepared to assist students when they come for assistance.
In many cases the collaborative relationship between an instructor and a librarian can result in assignments and class sessions that help further the goals of the class, allow students to understand the role of the Library in their College experience, and stimulate class discussion. Here are some examples of how the Library worked with faculty on class assignments:
One instructor recently asked his students to locate contemporary reviews of assigned novels to better understand the way the texts might have been originally received. He set up a session with the bibliographer for English literature to explain to his class how to find materials in 18th and 19th century periodicals. Later, with on-the-spot assistance by reference librarians, the students located materials that directly related to texts they were reading.
In an Art History survey course, the instructor wanted to use the online version of the Grove Dictionary of Art as a text for the class. While it is a wonderful source, the online version has some limitations that can be quite confusing to novice users. The instructor contacted the Art and Cinema Bibliographer, who explained to the class the source's peculiarities. The ten-minute presentation reduced potential student frustration, and her discussions with the instructor helped assure workable assignments.
A College English class assignment demanded placing a key theme of Jane Austen's Mansfield Park into historical context. A librarian at the Special Collections Research Center brought in the first edition of the novel, a triple-decker printed in 1814, and explained how the physical book could be used as historical evidence and contributes to the story of the book's initial reception. A reference librarian then helped the students develop effective search strategies to locate both primary and secondary materials concerning the key themes of the novel. After the class, reference librarians continued to help the students locate relevant information related to their assignment.
To learn more about designing effective library research assignments for your course, contact the Library.