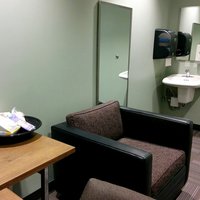 About
This room, Regenstein Room B-51, is for the exclusive use of nursing mothers and women seeking a prayer space who are currently affiliated with the University of Chicago, as well as visiting researchers using the Library's collections.
Regenstein Room B51 is located on the building's B Level and is an accessible and ADA-compliant private room available for up to one hour increments.
Using this Room
If the room is unoccupied but locked, or to request use, contact the Library Office Secretary in the Library Administration Office (Regenstein 180) between 8 a.m. and 5 p.m., Monday - Friday. At other times, please see the Circulation Supervisor on duty.