All Night Study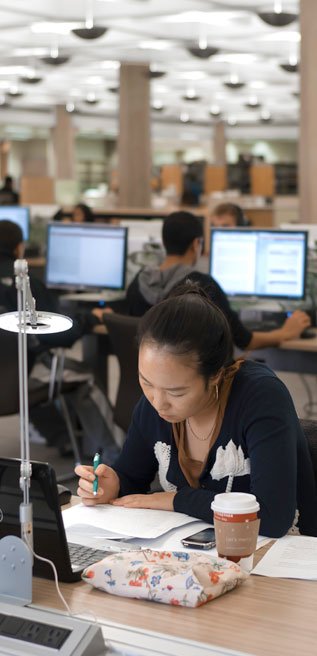 ALERT: All Night Study Closed Effective March 16
As part of the Library's response to the coronavirus, the All Night Study space in Regenstein and the Quiet All Night Study pilot in Mansueto will be closed until further notice, effective immediately.
All Night Study
The 1st Floor Reading Room of the Joseph Regenstein Library is open 24 hours a day from Sunday at 10 a.m. through Friday at 11 p.m. during the fall, winter, and spring quarters.
Only current UChicago students, faculty, and staff are eligible to use the all night study space.
All other areas of Regenstein are inaccessible after the building closes.
During interims and the summer quarter, the Library does not provide an all night study space.
Using the All Night Study space
Patrons using the All Night Study space are expected to follow all Library policies, including the food & drink policy.
Regenstein All Night Study Policies:
Collaborative Zone: working in groups and talking quietly with others is permitted
Cell Phone Zone: talking on cell phones is permitted (keep ringers silent)
Snacks and covered drinks are permitted throughout the 1st floor; meals and messy or smelly foods should be eaten only in Ex Libris
If a particular group or person is violating Library policies, you are encouraged to ask for assistance from the all night study attendant.
Admittance to All Night Study
Already in Regenstein at Closing
If you are in Regenstein at closing:
Move to the 1st Floor. Be sure to bring all of your belongings with you
Be prepared to show your UChicago Card to the all-night study attendant
Admittance after Closing
To be admitted to the all night study space after closing:
use the south entrance
tap your UChicago Card and ring the doorbell to the right of the main revolving door
show your UChicago Card to the entry control attendant to be admitted
tap your UChicago Card at the main entrance turnstile as usual
Other all night study spaces on campus
The Cathey Learning Center, managed by the College, offers another all night study space on campus, which provides spaces for both quiet, individual study and spaces for group work.
Questions
If you have questions about the All Night Study space, please contact Circulation.