Andrea Twiss-Brooks
she/her/hers
Director of Humanities and Area Studies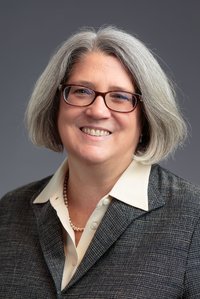 I am the Director of Humanities and Area Studies and am currently acting as Interim Director of Special Collections for the University of Chicago Library. In addition to these administrative roles, I provide reference and consultation support for students, faculty, and staff in chemistry; geophysical sciences; and the history of science, medicine, and technology.
I joined the university library in 1993 as chemistry librarian managing the Chemistry Library branch and serving on the science/medical reference team at the John Crerar Library. My subject liaison responsibilities at various times encompassed geophysical sciences, history of science and medicine, physics, and non-medical biological sciences in addition to chemistry. In 2006, I was appointed Co-Director, Science Libraries, managing all aspects of collections that support teaching, learning and research in the physical, biological and medical sciences.
Before moving to Chicago, I worked in scientific publishing, first managing an update project for the Wiley NBS Mass Spectral Database and later as an editorial associate for the journal, Accounts of Chemical Research. I started my library career at Lamar University in Beaumont, TX as an online searcher and science librarian.
My professional contributions include leadership positions in a variety of professional organizations, including American Chemical Society, Geoscience Information Society, and Medical Library Association (National Planning Committee/Local Assistance Committee chair for the 2014 Chicago meeting). I have also served on library advisory boards for a number of scientific and medical publishers.
Education
B.S. (Chemistry), Texas Christian University, Fort Worth, TX
M.S. (Chemistry), Cornell University, Ithaca, NY
M.L.S., University of North Texas, Denton, TX
More about me at ORCID http://orcid.org/0000-0003-1868-2794
Publications
View CV