Baseball and the law

One source (at p.2) quotes Tony LaRussa as saying:  "Law school didn't teach me how to hit the ball or how to run or how to pitch.  But, because of law school, I see the game playing out in front of me on the field in a very different way.  My legal training taught me to put myself in our opponents' dugout.  Law school taught me how to analyze and how to best deal with a specific situation…The best degree a baseball manager can get is a J.D.  The law degree taught me how to study, how to think, and how to implement and develop a strategy."
Locally, we have Chicago, law, and baseball connections.  University of Chicago Law School grad, Ross E. Davies, wrote in his 2010 article, "It's No Game:  The Practice and Process of the Law in Baseball, and Vice Versa" (via HeinOnline (subscription) and SSRN (free)), that Mark Mosier, J.D. '04, played for the San Francisco Giants before attending the Law School.  According to his Covington & Burling bio, Mark Mosier played minor league baseball for the Giants from 1997-1999.
Baseball has a long legal history.  In 1791, Pittsfield, Massachusetts' town council enacted bylaw prohibiting baseball playing within 80 yards of its meeting house building.  On September 28, 1920, several Chicago White Sox players were indicted for trying to "fix" the 1919 World Series.  The "Black Sox Scandal" led to the election of federal judge Kenesaw Mountain Landis as Commissioner of baseball in November 1920 (and a related movie, Eight Men Out).  Judge Landis refused until the owners signed the Major League Baseball agreement in 1921.  He was the first Commissioner of baseball.
Other legal issues involving Major League Baseball include labor law, antitrust law (Curtis Flood case: does the reserve clause violate antitrust laws?), torts (is a fan entitled to compensation if injured by a batted baseball?), crime (is a baseball bat a deadly weapon?), and wills (is the fact that a testator discourages people from attending baseball games evidence of insanity?).  And Davies reports that, in the month before he wrote his article, "courts issued reported opinions in 110 cases involving baseball in one way or another."
In another Chicago Law and baseball connection, the Green Bag 2d (edited by Ross Davies) issued the "Supreme Court Sluggers" series of baseball cards.  Justice Antonin Scalia (former Law School prof) is depicted as a catcher.  The Scalia card includes his "stats" (judicial opinions) to June 28, 2011.  
Law professor Robert M. Cover created a Law-Baseball Quiz in 1979 which compared major legal baseball players with Supreme Court justices.  You can play an enlarged version of it created by law professors Jerry Goldman and Paul Manna called Oyez® Baseball.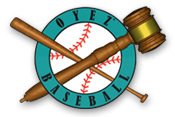 Interested in baseball and the law?  Check out these books we have in the Law Library collection:
Bargaining with Baseball:  Labor Relations in an Age of Prosperous Turmoil (William B. Gould IV, McFarland & Co., 2011)
Baseball and the American Legal Mind (Spencer Weber Waller, Neil B. Cohen & Paul Finkelman eds., Garland, 1995)
Courting the Yankees:  Legal Essays on the Bronx Bombers (Ettie Ward ed., Carolina Academic Press, 2003)
Eight Men Out:  The Black Sox and the 1919 World Series (Eliot Asinof, Henry Holt & Co., 1987)
Legal Bases:  Baseball and the Law (Roger I. Abrams, Temple University Press, 1998)
The Little White Book of Baseball Law (John H. Minan & Kevin Cole, ABA, 2009)