Cast your vote for the Winter Quarter reading of Diverse Books & Open Conversations
Diverse Books and Open Conversations has opened a new poll to vote on our next book. The four books to choose between deal with a variety of topics related to underrepresented groups, racism, and cultural assimilation.
The books: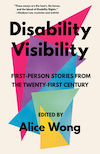 Disability Visibility: first-person stories from the twenty-first century edited by Alice Wong, One in five people in the United States lives with a disability. Some disabilities are visible, others less apparent—but all are underrepresented in media and popular culture. Activist Alice Wong brings together this urgent, galvanizing collection of contemporary essays by disabled people, just in time for the thirtieth anniversary of the Americans with Disabilities Act.
Legendary Children: The First Decade of RuPaul's Drag Race and the Last Century of Queer Life by Tom Fitzgerald and Lorenzo Marquez centers itself around the idea that not only is RuPaul's Drag Race the queerest show in the history of television, but that RuPaul and company devised a show that serves as an actual museum of queer cultural and social history, drawing on queer traditions and the work of legendary figures going back nearly a century. In doing so, Drag Race became not only a repository of queer history and culture, but also an examination and illustration of queer life in the modern age. It is a snapshot of how LGBTQ folks live, struggle, work, and reach out to one another–and how they always have–and every bit of it is tied directly to Drag Race.
The Loneliest Americans by Jay Caspian Kang, is the unforgettable story of Kang and his family as they move from a housing project in Cambridge to an idyllic college town in the South and eventually to the West Coast. Their story unfolds against the backdrop of a rapidly expanding Asian America, as millions more immigrants, many of them working-class or undocumented, stream into the country. At the same time, upwardly mobile urban professionals have struggled to reconcile their parents' assimilationist goals with membership in a multicultural elite—all while trying to carve out a new kind of belonging for their own children, who are neither white nor truly "people of color."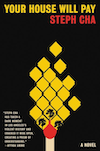 Your Hour Will Pay: a novel by Steph Cha, is a powerful and taut novel about racial tensions in LA, following two families—one Korean-American, one African-American—grappling with the effects of a decades-old crime. In the wake of the police shooting of a black teenager, Los Angeles is as tense as it's been since the unrest of the early 1990s. Protests and vigils are being staged all over the city. It's in this dangerous tinderbox that two families must finally confront their pasts.



Please vote on our next book and join us in the discussions that follow. The deadline to vote is Friday, November 18, 2022.