Hanna Holborn Gray Graduate Student Fellows explore new kinds of scholarship and expand career horizons at the Library
Aneesah Ettress's grandmother, Lena Ettress, was a librarian for most of her life and an active member of the Nation of Islam for some years, who provided Muslim Girl Training and educated women on their role in the Nation. Among the family's treasured possessions are a letter Lena wrote in the 1970s to Minister Louis Farrakhan questioning the supremacy of men over women in the Nation of Islam and another she wrote to the Honorable Elijah Muhammad asking whether the Nation was aligned with "Cassius Clay," who had taken the name Muhammad Ali by that time. These letters inspired Aneesah, an MDiv student and Hanna Holborn Gray Graduate Student Fellow in Digital Scholarship, to focus on women's theological discourse in the Nation of Islam when she began developing her digital humanities fellowship project at the Library.
The new Hanna Holborn Gray Graduate Student Fellowship program, launched at the Library in winter 2019, is giving University of Chicago students unusual opportunities to expand their professional horizons and enhance their development as scholars. Fellows learn about careers in academic libraries and archives through hands-on work conducted under the mentorship of a UChicago librarian, while simultaneously pursuing their individual research and teaching interests.
With the support of stipends made possible by Hanna Holborn Gray, the Harry Pratt Judson Distinguished Service Professor Emeritus of History and President of the University of Chicago from 1978 to 1993, the seven inaugural fellows are each learning about particular aspects of scholarship and librarianship and bringing their backgrounds and interests to bear in their work in unique ways.
"I was wondering when I read the letters from my grandmother whether other women in the Nation of Islam had the same questions," said Ettress, who is collecting materials and creating a digital presentation that will preserve them. Through the research she is conducting for her fellowship project, she plans to explore this and other lines of inquiry. "What is women's theological discourse in the Nation?" she asks. "Where does it take place? How do these discourses transform—or not—Nation of Islam religious practices and perceptions?"
Ettress has begun her collecting by gathering relevant family documents and keepsakes and by locating an archival website of a Michigan group called "The Nation of Islam Women Committed to the Truth," which provides access to recordings of women discussing the Nation's gender exceptionalist philosophy. One of her favorite finds so far, in addition to the letters, is her grandmother's original Muslim Girl Training hat, featuring the initials "MGT" sewn in gold. She plans to collect additional publications, as well as photographs, letters, ephemera, and interviews with women in the Nation at mosques in Chicago and St. Louis. She will then digitize, map, and annotate the collected materials, creating the digital presentation that will be archived and made available through the Library.
Ettress is using the open-source publishing platform Scalar for her presentation and will be teaching others at the Library how to use Scalar after becoming familiar with the platform.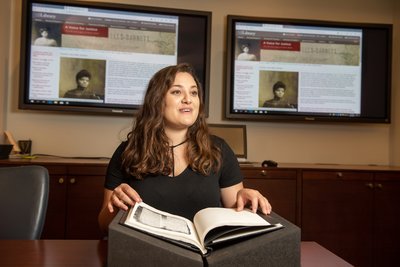 The Library's fellowship program is providing an unusual opportunity for Ettress, as a master's student in Divinity, to get training and mentorship on an extended digital humanities project from an expert in digital scholarship, Stacie Williams. "What I appreciate about this fellowship opportunity are the space and resources both in human and financial capital to pursue open inquiry and develop my technical skills in the digital humanities," Ettress said. Williams, Director of the Library's Center for Digital Scholarship, has taught her to build a sustainable and ethical project following the National Endowment for the Humanities Socio-technical Sustainability Roadmap.
Other Fellows are exploring different aspects of librarianship and connections to their own academic interests. For example, PhD candidate in sociology Cristina Sakamoto accepted a Hanna Holborn Gray Graduate Student Fellowship in GIS for Historical Chicago Data. She selected print maps from the Library's collections, digitized and georeferenced them, created story maps, and published them online for use by researchers worldwide. In doing so, she discovered sociological maps that are allowing her to expand the period covered in her dissertation, which explores the relationship between arts and economic development.
Ariadne Argyros, the Hanna Holborn Gray Graduate Student Fellow in Web Exhibits and an MA student in Middle Eastern Studies, came to the Library with a background in archaeology and museum work, including experience creating physical exhibits. As part of her fellowship, she created three web exhibits drawing on the Library's special collections on journalist and activist Ida B. Wells, photographer Mildred Mead, and early students at the University of Chicago. Argyros valued the opportunity to choose her own focus in creating exhibits about 20th-century subjects and looks forward to applying the skills she developed as she pursues a career in museums.
"We are delighted that President Emeritus Gray has enabled us to provide new opportunities for graduate students and are deeply honored that she has recognized the important role that the Library can play in expanding students' academic horizons," said Brenda Johnson, Library Director and University Librarian. "We launched the program and attracted a cadre of Fellows with several aims in mind: to fuel cross-disciplinary ideas and work through digital scholarship, to enhance research skills, to provide experience in planning and delivering instruction, and to foster curiosity about academic careers in libraries and archives. In turn, through the fellowships, the Library has gained the expertise and contemporary perspectives of some of the University of Chicago's most talented graduate students."
While Fellows commit to working for a minimum of a quarter, they are also invited to apply for renewals so that they can have sufficient time to pursue projects of varying lengths. Following the selection of an inaugural cohort of Fellows, which also included Kevin Irakoze as a Fellow in Digital Scholarship (Digital Archival Collections), Juno Dong as a Fellow in Library Research Support Services, May Peterson as a Fellow in University Archives, and Carlos Cisneros as a Fellow in Metadata for the Digital Media Archive, the Library invited new applicants for summer and fall fellowships. In addition to the Hanna Holborn Gray Graduate Student Fellowships, a John Crerar Foundation History of Science and Medicine Fellowship was offered in the summer.
Preserving and Discovering Languages and Careers
Carlos Cisneros, a PhD candidate in Linguistics, embraced the opportunity to work with the Digital Media Archive (DMA), a treasure trove of more than 21,000 linguistic and ethnomusicological recordings in 270 languages collected by generations of UChicago researchers. The DMA was long managed by the Humanities Division and is in the process of being transferred to the University of Chicago Library. As part of the transfer process, the Library is working to make the recordings more easily discoverable by a wide range of audiences, such as linguistics, anthropologists, and other scholars; language learners; speakers of endangered languages; and members of the general public. The Library was specifically looking for a graduate student to enhance the substantial Mesoamerican holdings of the DMA, including field recordings of native languages—some endangered—from Southern Mexico and Central America.
For Cisneros, the Fellowship was an outstanding opportunity to pursue his broader research goals. His dissertation research explores the grammars of indigenous and minority languages and the ways they inform linguistic theories of language acquisition. He is particularly focusing on Mesoamerican languages such as Mixtec, inspired by his association with migrant farmers in central California who speak the language. "The greater purpose of my work is preservation of the language in some form, by recording speech, transcribing data, and coding metadata," Cisneros explained. "By taking on this fellowship, I hoped to take part in a broader effort to enhance the accessibility of these Mesoamerican recordings for future scholars, and perhaps even those communities from which the recordings were derived."
Cisneros worked with Metadata Analyst Librarian Thomas Dousa to learn current metadata standards for linguistic and ethnographic recording collections online so that they could enhance the metadata, making individual recordings easier for interested users to discover. He also researched contributors to the collection so that he could improve contributor profiles in the database. "Working under this fellowship gave me firsthand experience with working at an archive and seeing how archival materials are typically handled once acquired," Cisneros said. "This proved to be terrific preparation for me as I accumulate my own recordings and adapt their metadata for donation to an archive. It also presented me with my own potential for contributing to the efficiency of operations at an archive, and I was able to visualize myself as working at such an institution in the long term."
In addition to the technical skills he developed and used over the course of his internship, Cisneros gained a broader view of the various roles catalogers play over the course of their careers, as librarians, translators, scholars, and administrators, and he learned about the lives of the early UChicago linguistic anthropologists he may seek to emulate. "It is due to the efforts of early anthropologists like Norman McQuown and Manuel Juan Andrade that we know as much about the Nahuatl and Maya languages as we do now," he said. "Working directly with their recordings, as well as with people that knew them, allowed me to appreciate their research in a way I had not before."