"Library Adventures in a Digital Age," a history of medicine pop-up display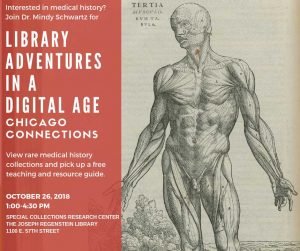 Join Dr. Mindy Schwartz, Professor of Medicine and Associate Program Director for Internal Medicine at the University of Chicago, in the Special Collections Research Center for a special pop-up display of rare medical history collections.
Library Adventures in a Digital Age:
Chicago Connections
Friday, October 26, 1:00 – 4:30 p.m.
Special Collections Research Center
Regenstein Library, 1st floor
View a selection of books and objects from our collections that enhance our understanding of the history of science and medicine, and learn how they can be used for research and teaching. A resource guide will be available.