Library partners with SSD on summer research workshops
Students come to learn quickly that a high concept, digital-based project can include concerns they never considered: where or how to look for datasets in a library, how to assess scholarly literature, or even how to convey their research online to their peers and potential employers. This summer, University of Chicago librarians partnered with the Social Sciences Division on a specialized Research Lifecycle workshop series for undergraduates participating in the Social Sciences Research Center's Summer Institute in Social Research Methods to help them understand the answers to these questions and more.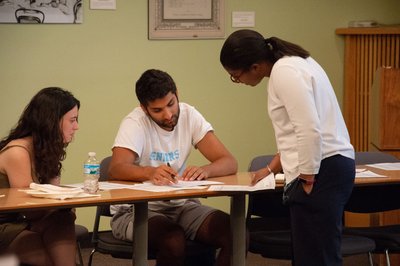 The Institute is a five-week program for more than 40 undergraduates and early-career graduate students from UChicago and other universities across the country that offers advanced training in research methodologies so that students can better understand data and the policies that may be produced from its results. Students took courses with Social Science Division faculty who taught Computing for Social Sciences, Econometrics, Intro to GIS and Spatial Analysis, Inferential Statistics, and Ethnographic Methods and the Senses, to sampling a wide range of methodologies across disciplines.
Librarians created a series of complementary active learning sessions to introduce students to copyright, acquiring proprietary data and understanding data licenses, digital project management, and creating personal websites to share research. These library-led sessions allowed students to acquire skills in the intricacies of identifying relevant, high-quality data from a variety of sources; adopt best practices in naming, organizing, documenting, and preserving their data; and learn strategies for effectively disseminating the results of their research to a variety of audiences.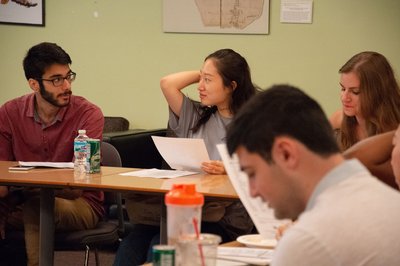 Feedback on the Summer Institute has been good. "It's been thrilling to accompany the Summer Institute students on a path that starts with the initial first meetings where everything we're talking about still seems confusing because they're still new to spatial ways of thinking, methods and computational tools, where everyone makes lots of mistakes and feels awkward and uncertain about the programming, the data, the questions and the methods," said Julie Koschinsky, Executive Director of the Center for Spatial Data Science. "As they're progressing with Marynia's class and their project, there's suddenly more traction after digging in and at the end of the summer, they've started to acquire a new spatial perspective on research, learned new spatial methods and have made the tools their own in a way that they're now flying through them confidently. It's been a beautiful transition to watch."
The UChicago Library can work with faculty on scheduling a similar Research Lifecycle workshop series for their own undergraduate and graduate students, or work with the Library to customize aspects of the workshop series for their classroom needs.