New Harry Potter book display and research guide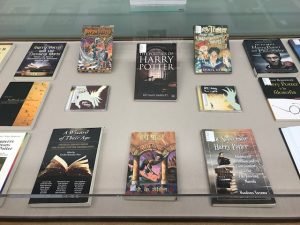 Do you need a little bit of magic during reading period and finals week? Take a break from studying by visiting our new display of Harry Potter materials on the 1st floor of Regenstein (near the Dissertation Office). This one-case display highlights just a few of the items available at the University of Chicago Library about the Harry Potter series, including translations, critical studies, and parodies.
Remember, if you need help locating research materials on Harry Potter, J. K. Rowling, children's literature, or just need help with your final paper, Ask a Librarian!
"Because that's what Hermione does,' said Ron, shrugging. 'When in doubt, go to the library." – Harry Potter and the Chamber of Secrets