The art and science of bringing Asian resources online
Scholars and students at the University of Chicago and around the world have a fundamental need for access to digital Asian resources in all disciplines.  By collaborating with librarians, faculty, computer scientists, and other colleagues at libraries and universities around the world, the University of Chicago Library is expanding the size and range of Asian digital collections that are freely available and discoverable online, while developing sophisticated new approaches to presenting and connecting materials in a variety of sonic and visual formats.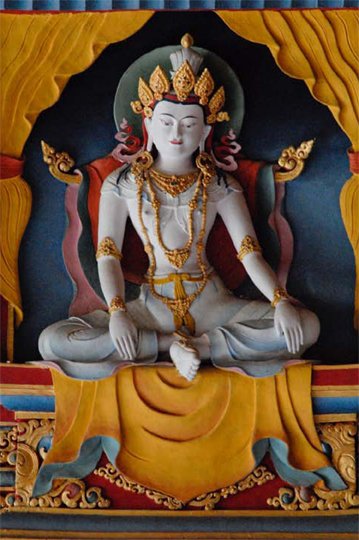 Metadata for Huntington Photographic Archive of Buddhist and Asian Art
The University of Chicago has been awarded a $50,000 grant from the Henry Luce Foundation to improve the metadata for the John C. and Susan L. Huntington Photographic Archive of Buddhist and Asian Art currently at The Ohio State University. Our Library is collaborating with the Huntingtons to augment and improve access to the metadata for more than 27,500 photographs of the art of China, Korea, and Japan, as well as Thailand, Myanmar (Burma), and Indonesia for improved scholarly and public understanding of Asia from ancient to modern times.
The Huntington Archive represents the efforts of 45 years of field documentation photography by John and Susan Huntington, who visited sites in remote regions of Asia, photographing many works of art that had never been published. Since the time many of these photos were taken, in far too many cases, the works of art have since been lost through theft or have been destroyed through natural and man-made disasters. The photos comprise one of the most important sources of information about these works.
Sonic and Visual South Asia in Space and Time
Continuing work that first began with a grant from the Neubauer Family Collegium for Culture and Society in 2013, this summer, Laura Ring, Assistant Southern Asia Librarian, and I collaborated with faculty including Philip Bohlman, Kaley Mason, and Anna Lise Seastrand to lead a workshop in Colombo, Sri Lanka, on philosophical and practical considerations with metadata titled Sonic and Visual South Asia in Space and Time—Connecting Objects, Texts, People and Places.
Participants included ethnomusicologists, art historians, leaders of cultural heritage institutions, social historians, archeologists, media and industry experts, computational scientists, archivists, and librarians.  Our intention is to investigate over several years how the methods of science might elucidate and facilitate the humanistic understanding of the resources upon which we focus.
SAMP Open Archives Initiative
The South Asia Materials Project's (SAMP's) Open Archives Initiative, launched in April, is creating and maintaining a collection of open access materials for the study of South Asia.  Subject specialists focused on the South Asian subcontinent from university libraries across the U.S. and South Asia have begun to work together to set priorities for digitization of resources on South Asia in every discipline from the humanities to the sciences. Among the intended candidates for digitization are official publications from colonial British India, 19th– and 20th-century serials, newspapers and monographs, and manuscript collections such as the Muslim League papers and the Indian National Congress papers and official correspondence.