The Black Metropolis Research Consortium connects researchers, archives, and communities
The BMRC moves to the Library, updates its summer fellowship program, and welcomes a new executive director
The Black Metropolis Research Consortium (BMRC) has settled into its new Library home. Housed at the University of Chicago, the 12-year-old BMRC is a consortium of more than 20 libraries, universities, and other archival institutions that hold materials documenting African American and African diasporic culture, history, and politics, with a specific focus on materials relating to Chicago. In the summer of 2016, the BMRC moved from the Provost's office to the University of Chicago Library, where shared goals of community engagement and facilitating access to research collections have created a dynamic partnership.
Summer Short-term Fellowship Program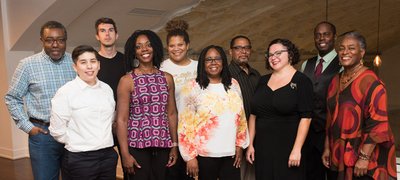 The BMRC's flagship Summer Short-term Fellowship Program, funded by the Andrew W. Mellon Foundation, engages doctoral candidates, postdoctoral scholars, artists, writers, and public historians from the United States and Europe to better formulate new historical narratives of Chicago's African American past based on research collections housed at BMRC member institutions. It offers one-month Chicago-based residential fellowships to scholars chosen through an international competition. Starting in 2015, the BMRC introduced a cohort model, soliciting proposals on a few specific subjects in order to foster a community-focused environment for the Fellows and to increase interaction among those working on related subjects. This year's focus was Design, Urban Design, and Architecture and drew scholars from institutions as close to home as Northwestern and the University of Chicago and as far away as Berkeley, Howard, and the University of Birmingham. From the evolution of food deserts to the impact of public housing architecture on communities, the BMRC 2017 Summer Fellows delved into Chicago-area archives for insight into the history of Chicago's African American community.
In addition to creating opportunities for scholars and artists to conduct primary research in Chicago-based archival repositories, the goal of the Summer Short-term Research Fellowship Program is to engage the local Chicago community in the history of their city. Therefore, Fellows are asked to present their preliminary findings at one of several evening events at venues across the city. In 2017, presentation events were hosted at the Chicago History Museum, the Carruthers Center for Inner City Studies at Northeastern Illinois University, the Union League Club of Chicago, and the Stony Island Arts Bank of the Rebuild Foundation. Topics such as "Staging Equity: The Evolution of Carceral Architecture in African American Communities in Chicago" and "Chiseling, Welding, and Painting: A Chicago Landscape's Casting of a Black Artist" drew audiences of roughly 50 people each and provided an opportunity for lively discussion.
New Executive Director Andrea Jackson
In September, the Library welcomed Andrea Jackson as the new executive director for the BMRC. Jackson comes from the Atlanta University Center Robert W. Woodruff Library, where she received a 2016 Library Leadership Award. She has experience acquiring, preserving, and making accessible the historical legacy and records of African Americans and has experience with a broad range of constituencies that will inform the development of engaging programs. This background will be invaluable as the BMRC undertakes a strategic planning process to map out future goals and initiatives.