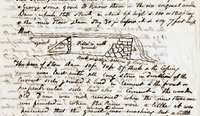 Loammi Baldwin was a pioneering civil engineer who lived in Massachusetts from 1780 to 1838. He planned and executed public works projects in several Eastern states including canals, public monuments, dams, and tunnels. His lifework was a series of dry docks he built on commission by the United States government in 1833. The collection contains 247 handwritten letters both from and to Baldwin and his business associates, colleagues, and family members. The letters reveal aspects of Baldwin's personal life as well as his professional projects and meditations.
View Online Collection and Finding Aid
Access Information
The collection is open for research.