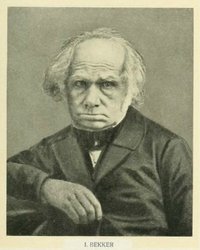 The Immanuel Bekker Papers consist entirely of correspondence addressed to Bekker; the content of the letters varies. Some are semi-official communications (Niebuhr, W.V.Humboldt); many are of a scholarly nature, occasionally with extensive Greek quotations. Those written by Bekker's closer intimates are often typical of the need felt in the Romantic era to open one's heart to a friend, while a few are no more than short invitations (Reimer). The letters cover the period 1806 to 1853.
The letters are arranged alphabetically by the 28 correspondents. Within each folder a chronological sequence has been maintained wherever possible. A small group of letters by obscure persons and fragments is found at the end.
View Online Collection and Finding Aid
Access Information
The collection is open for research.