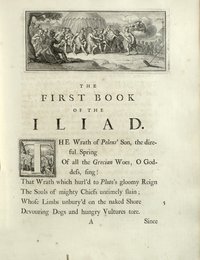 In 2007, M. C. Lang gave his collection of works by Homer to the Special Collections Research Center.  This gift formed the core of the Bibliotheca Homerica Langiana (BHL).  M. C. Lang, who studied Greek at Hamilton College under John Mattingly (AB, University of Chicago, 1926), formed this collection of editions and translations of the Iliad and the Odyssey with the goal of tracing their transmission in printed form. In considering the future of his collection, he sought an institutional home where students and faculty would actively use the books, and he recognized that the vibrant program in classics at the University of Chicago would provide such an environment.
The Library continues to acquire Homeric editions and translations, illustrated and graphic editions, and versions for children to add to the Bibliotheca Homerica Langiana.

Click here to see the current complete holdings of the Bibliotheca Homerica Langiana in the Library Catalog.
---
The University of Chicago Library published a catalogue of the original gift in 2013. Homer in Print, a Catalogue of the Bibliotheca Homerica Langiana was edited by Alice Schreyer and includes essays by M. C. Lang, Glenn Most, and David Wray.  The entries were written by Alex Lee and Diana Moser.
In 2014, an exhibition showcased the collection, along with other works by or about Homer held in the Library: Homer in Print, the Transmission and Reception of Homer's Works.