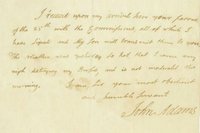 Chiefly letters and manuscripts by notable American men such as John Adams, William Cullen Bryant, DeWitt Clinton, Stephen A. Douglas, Frederick Douglass, Ralph Waldo Emerson, Horace Greeley, Washington Irving, Andrew Jackson, Thomas Jefferson, James Madison, William Henry Seward, George Washington and many more. Also contains a small number of manuscripts by Europeans, including Erasmus and the Marquis de Lafayette.
View Online Collection and Finding Aid
Access Information
The collection is open for research.