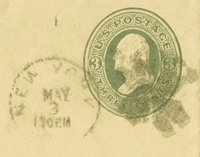 The collection is divided into three series: Personal, Correspondence, and Business Records.
Series I, Personal, contains personal records, diaries, and other ephemera. This includes a school composition by a young Henrietta Carter and records of business dealings with family, particularly with regard to Henrietta Carter's mother's estate and resultant transactions. The series also contains a number of small leather bound memo books that document Carter's personal and household expenses, letters written, laundry sent out, and travel. Sundry ephemera and incidental papers were found inside the books, such as newspaper clippings, recipes, and receipts. There are three later diaries documenting Carter's farm ventures after relocating to Illinois, his daily activities, and some of his private thoughts. Of particular interest to researchers are the incidental papers in Box 1, Folder 2, which include a recipe for alcoholic bitters, a Confederate government bond, and a pass that allowed travel from Louisiana to New York during the Civil War. Folder 7 contains a newspaper clipping with the text of the 1875 Civil Rights Act, and Folder 12 includes a scrap of paper with an idea for a hollow rubber horse shoe. Personal papers will come first in the series, arranged chronologically. The memo books and diaries follow, also arranged chronologically. Each book is housed with any material found in its covers. Material pertaining to Whitlocke family estates and affairs is at the end.
Series 2, Correspondence, contains letters from Carter to his wife Henrietta, as well as letters to Henrietta from her family, mostly dating from before her marriage to Carter. There are also a few letters from Carter to other members of his family, and several to other members of Henrietta's family. Whitlocke family correspondence is first, arranged chronologically, then letters written by H. K. Carter.
Series 3, Business Records, contains documents relating to Henry Kendall Carter's business activities. It primarily reflects Carter's time in New Orleans, before he moved to Kendall County, IL. The material in this series consists of account ledgers, balance sheets, promissory notes, employment contracts, statements of accounts, business correspondence, legal documents such as mortgages and records of land sales, and other documents related to Carter's involvement in the cotton industry in New Orleans, as well as his involvement in The New Orleans Commercial Bulletin. It also contains bills and receipts for business expenses, rent, etc. Of particular interest is a bill of sale for two slaves, Nancy and Cordelia (a mother and child), in Box 4, Folder 6.
Series 4, Oversize, contains a fragile letter housed in Mylar, and a bound volume of business letters from Carter with many loose pages. The letters provide valuable information about the growth of Carter's cotton business in New Orleans.
View Online Collection and Finding Aid
Access Information
The Henry Kendall Carter Papers are open for research in accordance with the University of Chicago Library's "Policies and Regulations Governing the Use of Manuscript and Archival Collections."