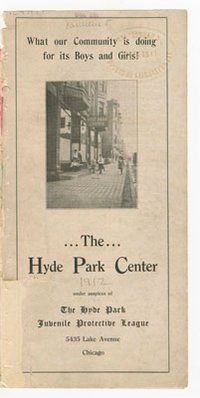 The Hyde Park Center was an independent welfare organization that provided a free kindergarten for toddlers, built a playground, and organized athletic and educational activities for children and teenagers in the neighborhood. The organization was formed in 1908 after the discovery of gangs of homeless and neglected boys in the Hyde Park area. In 1909, the Hyde Park Center became affiliated with the Hyde Park Juvenile Protective League, a branch of the Chicago-wide Juvenile Protective League, which was founded by Jane Addams and her colleagues at Hull House and was devoted to preventing juvenile delinquency. The center was not formally affiliated with a church, but many representatives from local churches were involved in its administration. Activities and clubs were divided along gender lines, with sporting, debate and manual skills emphasized for boys, while homemaking skills, such as cooking and sewing, were emphasized for girls. The center also hosted a library and conducted vocational training and job placement for youth. Most of those who worked at the Center were volunteers, usually women from the Hyde Park neighborhood. The center was supported by membership dues and charitable contributions.
Online Collection and Finding Aid
Access Information
The collection is open for research.