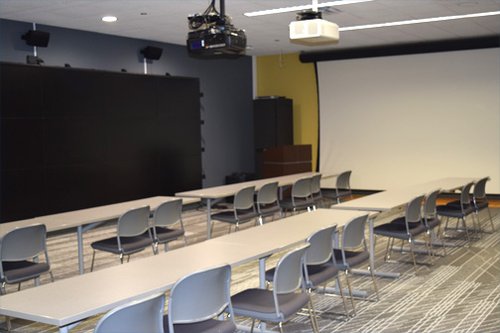 About
Kathleen A. Zar began her tenure with the University of Chicago Library in 1967 and served as our Science Librarian and Assistant Director for the Science Libraries from 1994 until 2006. Her innumerable professional contributions led to significant growth and diversification of the Library's programs and services for the sciences. In her memory, the University of Chicago Library is pleased to announce the opening of the Kathleen A. Zar Room in the John Crerar Library.
The Kathleen A. Zar Room was made possible by the generosity of Kathleen's husband, Howard Zar; her mother, Margaret Sykora; the John Crerar Foundation; and many friends. Kathleen's friend and colleague Patricia Swanson created and donated the room's collage, Explanation 2007. The room and the collage are a testament to Ms. Zar's understanding of the important intersection between books and technology in the advancement of knowledge.
The University of Chicago Library is also privileged to be the steward of two additional tributes, the Kathleen A. Zar Book Fund and the Kathleen and Howard Zar Environment and Human Health Book Fund.
There are two sections of the Zar Room; the Data Visualization Laboratory and The GIS Hub. The laboratory is managed by the Research Computing Center.