An online trove of Biblical manuscripts
The digitization of the Goodspeed Manuscript Collection
An extraordinary collection of 68 New Testament and other Biblical manuscripts dating from the fourth to the twentieth centuries has been digitized and made available for study online. This fall, the University of Chicago Library celebrates the completion of a website (goodspeed.lib.uchicago.edu) featuring digital facsimiles of rare and delicate Greek, Syriac, Ethiopic, Armenian, Arabic, and Latin manuscripts from the Edgar J. Goodspeed Manuscript Collection in the Special Collections Research Center.  This premier collection holds great artistic, historical, and textual significance for scholars.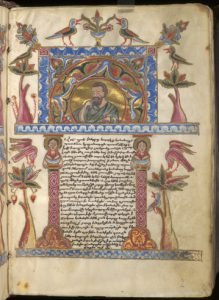 The inspiration for the digitization project came from faculty working in a range of disciplines from religious studies to art history and classics.  All had an interest in bringing digitized images of manuscripts into the classroom and onto the laptops of students and faculty.  An initial grant from the University of Chicago Provost's Program for Academic Technology Innovation and an award from the Institute of Museum and Library Services National Leadership Grants for Libraries helped to fund the early years of the project.
Completion of the digitization project was the result of a successful collaboration across Library units including the Digital Library Development Center, Special Collections Research Center, Preservation Department, and Cataloging Department.  Specialists in the Library overcame numerous challenges over the course of the digitization process.  For example, many of the manuscripts are bound in vellum or leather with parchment text pages that are proteinaceous, causing the material to cockle and stiffen over the centuries.  Others feature extraordinary illustrations—from decorative headpieces and initials to full-page images—on media that needed to be handled with the utmost care to prevent flaking or crumbling.
The faithfully photographed works are represented online by high-resolution 24-bit color images that researchers can view in tremendous detail using the zooming capability of the web interface. In addition, Special Collections staff provided detailed metadata about each manuscript's intellectual content together with descriptions of miniatures, watermarks, and heraldic devices.  This enables both general and advanced users of all disciplines to search and browse the online collection using a wide range of subject headings, descriptive terms, and manuscript features.