Apply now for autumn Library graduate student fellowships
The University of Chicago Library is offering four fellowship opportunities for graduate students this fall. The fellowships are intended to give graduate students at the University opportunities to explore alternative scholarly careers and to build skills and knowledge in new areas of scholarship. Three Hanna Holborn Gray Graduate Student Fellowships and one John Crerar Foundation History of Science and Medicine Fellowship are currently being offered.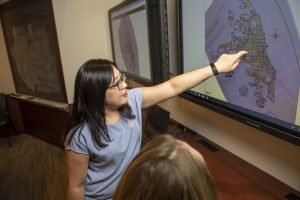 The Hanna Holborn Gray Graduate Student Fellowship in Philosophy/Theology Metadata will explore changing subject areas taught and studied within the department of Philosophy or the Divinity School via analysis of metadata and dates of acquisition of materials in the Library collections. The graduate student will partner with a metadata librarian to design a project that combines the student's interest and subject knowledge with the librarian's expertise in metadata and reporting.
The Hanna Holborn Gray Graduate Student Fellow for Archival Transcription will work with Special Collections Research Center Archivists to determine best practices and develop efficient workflows for transcribing handwritten archival documents. The Fellow will research models for transcription of these documents into human and machine-readable text to make collections searchable, and more accessible to a broader range of researchers.
The Hanna Holborn Gray Graduate Project Fellow at D'Angelo Law Library, working with the Law School's institutional repository, Chicago Unbound, will gain experience in selecting and organizing unique historical materials, acquire knowledge about the scholarship and history of the Law School and the scholars who have led it, and develop skills in collaboration, creativity, and the organization, evaluation and presentation of information for a virtual audience. The Fellow will create and develop a new Chicago Unbound special collection highlighting the scholarship and service of the Law School's deans throughout its history.
John Crerar Foundation History of Science and Medicine Fellowship will focus on exploring the history of women engaged in astronomy research efforts during the first half of the twentieth century at Yerkes Observatory in Williams Bay, WI, a largely unexplored area of research. The Fellow will work closely with the Librarian for the History of Science, Medicine and Technology and other Library staff to identify, collect, organize and synthesize biographical, scientific and related information about the women involved in research endeavors at the Observatory and to communicate this information via a website or other appropriate platform.
Autumn 2020 fellowships carry a stipend of $3300 for the academic quarter. Fellowships involve approximately 15 hours of work per week.
For more information about these opportunities, please contact fellowships@lib.uchicago.edu.