Bert Kelly's Stables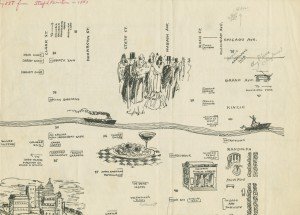 In the 1920s, as Chicago was quickly becoming a major hub for jazz, many jazz hotspots were popping up all over the city. One that stood out was Bert Kelly's Jazz Stables, pictured in the map on the left between Grand and Kinzie (click on the image for an enlarged view.) Kelly's Stables, as it was commonly referred to, was located in what was then known as the Towertown neighborhood on the Near North Side. Located at 431 N Rush Street,  in the heart of what was once a bohemian enclave, Kelly's Stables showcased many of the great Chicago jazz legends night after night. Counted among the respected alumni are Alcide "Yellow" Nunez, Joe "King" Oliver, Freddie Keppard, and the Dodds Brothers: Johnny and Baby. Nunez composed a popular tune titled "Livery Stable Blues," which served as inspiration for the club's name.
The club's namesake and founder, banjoist Bert Kelly, was no stranger to swing and is often cited as the first to bring jazz to Chicago, a distinction believed to have been assigned by Kelly to himself. Kelly also claimed to have coined the term "jazz." Regardless of these various assertions one thing is certain: Kelly's Stables was one of the most popular jazz clubs in Chicago during the 1920s. Bert Kelly went on to open Kelly's Stables on 52nd Street in New York City. The New York City location quickly became a prominent club during the 1930s and 1940s when New York took over as the reigning Jazz Capital.
The history of Kelly's Jazz Stables and many other popular historic Chicago Jazz venues can be found in the John Steiner collection, one of the many distinctive collections that comprise the Chicago Jazz Archive. Jazz scholars and enthusiasts have much to view and enjoy thanks to the diligent collecting of John Steiner, who began attending jazz shows in and around Chicago starting in 1924.