Elisabeth Long builds on digital scholarship career at UChicago Library to become dean at Hopkins
Elisabeth Long, Associate University Librarian for IT & Digital Scholarship at the University of Chicago Library, will soon be leaving to take the position of Sheridan Dean of University Libraries, Archives, and Museums at Johns Hopkins University in January.
As Long prepares to depart, Rachel Rosenberg interviewed her to get her insights on digital scholarship, digital collections, and the role of Library staff members as collaborators with faculty in the research process, as well as the ways her 29-year career at the University of Chicago prepared her for a deanship.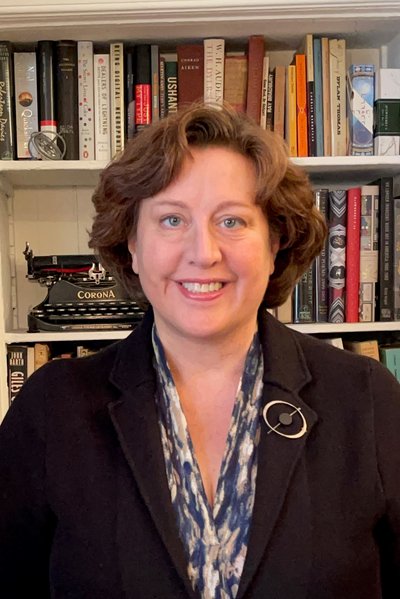 You've taken a leadership role in developing digital scholarship services here at Chicago.  What are some of the highlights of your work in this field?  How do you envision the field evolving?  
Well, certainly, one highlight was going to CERN with an inter-institutional team of high energy physicists, librarians, and data scientists as part of an NSF-funded project to explore a viable data and software preservation architecture that would ensure the ongoing usability of the data from the Large Hadron Collider. Another exciting project that is currently underway is also exploring the ongoing usability of data, but this time of a very different sort. We are working with faculty and students to explore how to digitize 100+ years of glass plates with astronomical photographs and spectra in ways that enable modern scientific analysis.
I expect that we will be seeing much more of this kind of collaboration because of the growing interest in the open sharing of research results and research data, both current and historical. What I see on the horizon is a greater focus on sustainable infrastructure to support digital scholarship.  Granting agencies don't want to fund one-off solutions—they are looking for collaborations between units across campus that bring their various expertise together to build secure and sustainable platforms.
You've also done important work on digital collections here at Chicago.  Do you have one or two favorite collections?  What is the potential for work in this area in the future?
I think my current favorite digital collection is one that I can't point you to yet, because we are just getting started.  The Library will be digitizing around 5,000 19th- and 20th-century maps of Chicago from UChicago, the Newberry Library, and the Chicago History Museum. The collections contain everything from bird's-eye views of the city to block-level detail of the street layout.  Library staff members will be geo-referencing everything so that when it is done, scholars will have a rich resource onto which they can layer all sorts of data.  I love maps, and creating a collection of so many different maps of one place across a significant stretch of time will be transformative.

Another personal favorite is the Chicagoan, a journal from the 1920s and 1930s, just because of its visually stunning covers.  As I am coming to grips with leaving this wonderful city, I am particularly drawn to the colorful depiction of architectural landmarks on the covers, including the Art Institute, Buckingham Fountain, Michigan Avenue, and the Marshall Field's clock.
However, when I look at digital collections like the Chicagoan I recognize that they are on rather dated platforms. I'm sorry that I won't be here to realize our next goal, which is to re-envision how we serve up our digital collections.  Today's researchers want to be able to search across our digital collections and download large sets of text or images for data mining and AI analysis.  We have just submitted a proposal to NEH, in collaboration with faculty and staff from the Humanities' Digital Studies program, to build an integrative platform for digital collections and humanities research data that will better support modern methodologies.
Although you're leaving, there are wonderful librarians and other staff members you've worked with who will continue. Who are some of the people on your team that you want faculty to know about?
Yes, I have been building a strong team that will continue to develop these services and partnerships. Cecilia Smith is our Director of Digital Scholarship and a key contact who can provide consultations on all aspects of digital scholarship and can coordinate pulling in staff from across the library with subject expertise, metadata and digitization skills, and technical knowledge.  We also have a new Scholarly Communications Librarian, Adrian Ho, who can work with faculty interested in open access, data management planning, and depositing work into Knowledge@UChicago, the University's open repository for papers, data, code and other scholarly outputs.  Adrian and Cecilia have been working most recently with colleagues from across the University to develop support for the new NIH policies on data sharing and preservation.
You originally joined the University of Chicago Library as the Head of Binding Operations in the Preservation Department in 1993 and went on to serve as Assistant to the Director, Co-Director of the Digital Library Development Center, and Associate University Librarian for Digital Services and Director of eCUIP Digital Library before becoming Associate University Librarian for Information Technology & Digital Scholarship.  What made you want to pursue a career at the University of Chicago Library for almost 30 years? 
The combination of the vibrant, intellectually engaged community at UChicago, along with the opportunities I have had over the course of my career to explore the ever-evolving roles that the Library plays in research and teaching at the University.  I have been involved with everything from the early uses of the web—yes, I remember the days when the Library catalog had no web interface—to the investment in building digital collections to our current focus on developing services for the archiving and sharing of research data.  There were always new challenges that kept me engaged over the many years that I have been here.
How has your career at Chicago prepared you for the role of Dean at Johns Hopkins?  
My work with faculty on their research projects and my experience as Interim Director of the Library gave me the opportunity to see things from both an academic and an administrative perspective.  This provides critical insights for a dean who must have a deep understanding of the research and teaching enterprise, while also having experience in navigating a complex organization to achieve strategic goals. Both Hopkins and UChicago are constantly evolving to support groundbreaking research, so it will be a familiar environment, while providing me with exciting new challenges.