Women who made legal history: Patsy Mink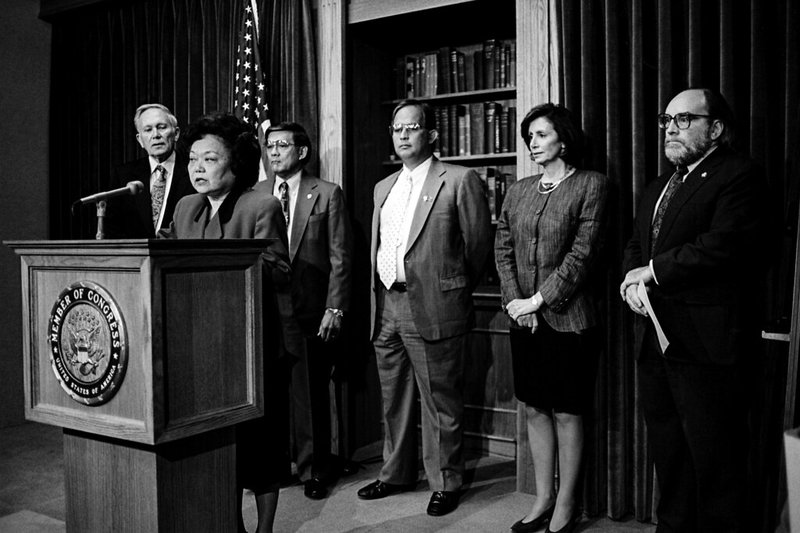 The D'Angelo Law Library is closing off National Women's History Month by honoring two women - Patsy Mink and Sarah Goode. Although from different eras and in different professions, they made legal history in their own, unique ways. First up, Patsy Mink.
Patsy Mink is a 1951 graduate of the Law School (who also worked in the then named University of Chicago Law Library - we became "D'Angelo" later). She was born Patsy Matsu Takemoto in 1927 and passed away in 2002. She wanted to become a doctor and attend medical school, but her applications were not accepted, so she applied to law school instead. She was one of two women, and two Asian-Americans, in her graduating class at the University of Chicago Law School. After graduation, she had difficulty getting a job in the legal profession because of the same sexism and racial discrimination that dogged her early on since college, and now, including her interracial marriage with John Mink, so she started her own practice. Mink was the first Japanese-American woman to practice law in her home state of Hawaii and worked as a private attorney for the House of Representatives in that territory.
She also turned to politics. Mink won a seat in the Hawaii State Senate in 1962, and in 1964, she became the first woman of color elected to the U.S. House of Representatives and the first Asian-American woman to serve in Congress. She also served as Assistant Secretary of State for Oceans and International Environmental and Scientific Affairs. She created the Congressional Asian Pacific American Caucus. She sponsored bills such as Title IX, the Early Childhood Education Act, and the Women's Educational Equity Act.
As a congresswoman, Mink fought for gender and racial equality, affordable childcare, bilingual education, and became a supporter of Title IX. She was one of the authors and sponsors of the Title IX, the law which stated that "No person in the United States shall, on the basis of sex, be excluded from participation in, be denied the benefits of, or be subjected to discrimination under any education program or activity receiving Federal financial assistance." After her death, the Title IX law was renamed the Patsy T. Mink Equal Opportunity in Education Act. (1)
Patsy Mink was also the first Asian-American to run for U.S. President.
For over four decades, Mink championed the rights of immigrants, minorities, women, and children, and worked to eradicate the kind of discrimination she had faced in her life. Known for her integrity, determination, tenacity, and honesty, she is recognized as the major mover of Title IX, the legislation that brought academic and athletic equity to American educational institutions. Mink was a strong environmental advocate and worked tirelessly on energy policy issues of regional, national and global impact. She was the recipient of numerous awards and honorary degrees. (2)
---
(1) Kerri Lee Alexander, "Patsy Mink (1927-2002)," National Women's History Museum. See also " Title IX and Sex Discrimination" (U.S. Dept. of Education, Revised April 2015).
(2) "Patsy Takemoto Mink" (National Women's Hall of Fame). See also "ALIST Profile of Patsy Mink '51" (The University of Chicago Law School), linking to Jennifer Ho, "Dispatches: Patsy Mink, Political Pioneer," ALIST, January 11, 2012. For more information, see Called from Within: Early Women Lawyers of Hawaiʻi, edited by Mari J. Matsuda, pages 251-280.