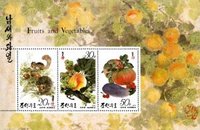 The images found here in the North Korean Stamp Collection provide a valuable window into shifting politics and culture of North Korea and a different perspective of the nation's historical place in the modern world. The Collection also serves as a well-curated primary resource for scholars to expand Korean studies in the philatelic realm. In the decades following North Korea's issuing of its first stamp in 1946, these printed items were limited to postal usage. In 1970, however, production increased greatly as stamps turned into a profitable item both exported to collectors worldwide and consumed by tourists visiting Pyongyang. Since then, these government-issued documents have grown progressively more elaborate in design and scale, assuming a dual commercial and propagandistic function as an instrument for the transmission of popular culture and national identity.
The Collection is composed of about 2,000 images from 20 stamp books and 30 individual sheets. The dates of origin span over several decades (1962 to 2017) and a striking variety of subject areas. These subjects include: National figures and symbols, Military, Worker's Party of Korea, Tourist sites, National heritage and Folklore, Traditional and European Art, Animals and Plants.
There are a number of notable points in the Collection. For those interested in North Korean politics, the propagation of ideas and theories appears diversely in textual elements. All of the slogans, mottos and pedagogical messages are translated and included as one of the Collection's data fields. Important to note, however, is that the stamps adapt the propagation of historical figures and events to be effectively communicated to various international audiences and consumers. Amongst the commemorative stamps found in the Collection are such events as the UN International Year of Peace, national anniversaries of the People's Republic of China and the 25th Anniversary of July 4th North-South Joint Statement. Not all items are strictly political however, as the animal collection includes images of a Poongsan dog (풍산개; a traditional Korean dog breed), dinosaurs, and a red-bellied turtle. Also on view are all important locations found in the capital of Pyongyang, such as the Central Zoo, the Triumphal Arch, the National Theatre, Future Scientists Street, and the Seven-story pagoda of Hyeonhwa Temple (현화사 7층탑). Elsewhere, we also see selected masterpieces of European painting displayed alongside traditional Korean works dating back to the 16th century.

For those with additional questions about the Collection, or who would like to view the physical stamp books, please contact Jee-Young Park, Korean Studies Librarian.
North Korean Stamp Collection