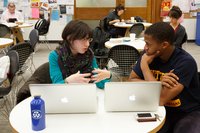 About
Ex Libris café is a student-run cafe located in the northeast corner of the 1st Floor of Regenstein.
The café provides a welcoming space that can comfortably seat 75 users. Faculty, students and staff who wish to take a break from their work in Regenstein can enjoy access to food and beverage services at reasonable prices in an attractive space. Ex Libris' menu includes fresh panini, cold sandwiches, salads, sushi, assorted pastries, desserts, candy and snacks, in addition to a full coffee and espresso bar with a loose leaf tea service.
When Ex Libris is closed, the seating area remains open as a space to take a break to eat and drink during all the hours that Regenstein is open, including All-Night Study hours. Vending machines are also available in the space.
Ex Libris and the A Level are the only spaces in Regenstein where meals and messy or smelly food are permitted.

Visit the Ex Libris café website for more information.
Ex Libris café is a department of the Center for Leadership and Involvement hosted by the University of Chicago Library.