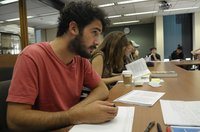 About
Library Classrooms are primarily intended for formal instruction sessions by library staff and special class sessions by University faculty.
During regular teaching hours, groups may use library classrooms on a first come, first served basis only when the classroom has not been reserved for an instruction session. Groups should vacate a classroom at least 10 minutes prior to the start time of a posted session.
All library classrooms have chalkboards or whiteboards and projector screens. Some classrooms also have a ceiling-mounted projector. See Book a Room for details.
Groups may reserve library classrooms outside of regular teaching hours only.
Monday - Friday: 10 p.m. to closing
Saturday - Sunday: during all hours the Library building is open
Interims: during all hours the Library building is open