Recycling initiative in Regenstein Library
The University of Chicago Library, in collaboration with the Office of Sustainability and Facilities Services, is engaged in an initiative to increase recycling and reduce the contamination of recycled materials in Regenstein Library. New signs are being posted near recycling bins throughout Regenstein noting the types of items that can and cannot be recycled.
Please help us to increase recycling and reduce contamination by following the guidelines in the signs.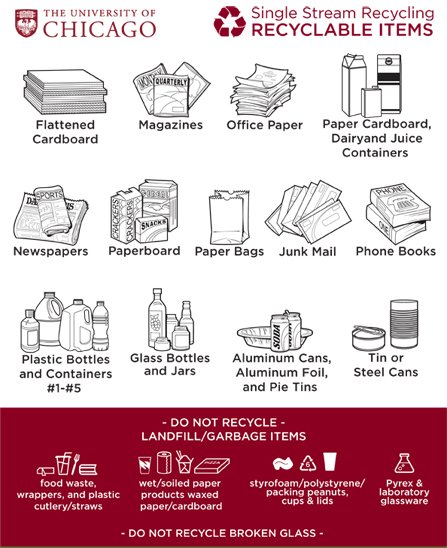 Refer to the Recycling Directory for recycling batteries, light bulbs and electronics at sustainability.uchicago.edu.
The signs will be part of a larger campaign to raise awareness among students, faculty, and staff about recycling in the Library. The Library will be working with student organizations such as the Phoenix Sustainability Initiative and the Library Student Advisory Group to spread the word about the importance of proper recycling to reduce landfilled waste.
Questions about the program may be directed to John Carey, Library Facilities Manager. Registered student organizations interested in supporting the initiative may contact Rebecca Starkey, Head of Research and Instruction.