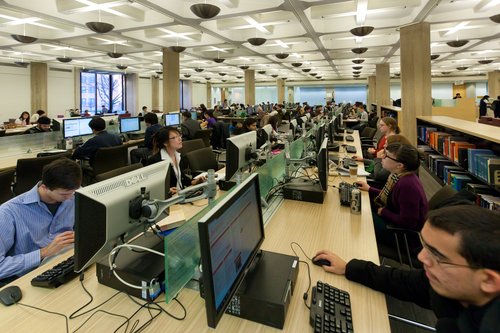 About
Regenstein's 1st Floor Reading Room is a collaborative space and contains the Regenstein Circulation Desk and the ITServices TechBar.
Restrooms are available near the main elevators, as well as at the west end of the corridor leading to Mansueto.
Extended Study Hours Jan. 10-13 & Jan. 18-20
Regenstein's 1st Floor Reading Room will remain open to current students, faculty, and staff from 5 p.m. until 8 p.m. Monday, January 10 through Thursday, January 13 and Tuesday, January 18 through Thursday, January 20.
All other areas of Regenstein will be inaccessible after the building closes at 5 p.m.
Entry to the 1st Floor Reading Room after 5 p.m.
To access the 1st Floor Reading Room after the building closes, use Regenstein's south entrance.
Tap your UChicago ID at the card reader by either automatic door, which will then unlock briefly.
Proceed into the lobby and tap your ID at the entry gates as usual.
Wear a mask and follow the Health Pact
Students, faculty and staff using the 1st Floor Reading Room during extended study hours are expected to follow all Library policies, as well as the current University of Chicago Health Pact, which includes wearing a face covering regardless of vaccination status.
Drinking and eating are prohibited, except for drinking from water fountains and drinking and eating in Ex Libris Café.
Be prepared to show your UChicago ID to the Reading Room attendant if requested.
Collections
Display Collection
Graduate Career Development Resources Collection
Features Information