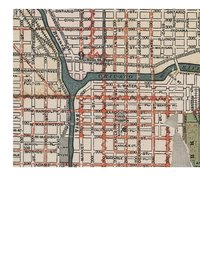 Sheet maps of Chicago in the 1890s that are held at the University of Chicago Library's Map Collection. The 1890s were an extraordinary decade for Chicago, perhaps the only period in the city's history when its status as a "world city" would be disputed by few. The World's Columbian Exposition was held in 1893. "Prairie-school" architects like Frank Lloyd Wright began to acquire a measure of fame. Novels like Sister Carrie were inspired by the city's peculiar mixture of wealth and squalor--and by its astonishing growth. It is often said that Chicago grew more quickly in the second half of the 19th century than any large city in the modern history of the Western world. In the 1890s alone its population increased by 600,000. In 1900, with 1.7 million people, Chicago was, by some measures, (briefly) the fifth or sixth largest city in the world.

Transportation was inevitably a problem in the newly gigantic city, but the adoption of "electric traction" in the 1890s eased the strain. Horse and cable cars began to be replaced by electric streetcars, and the first lines of the elevated railway system opened. At the very end of the decade, plans were made for interurban lines to join steam railroads in connecting the city and its suburbs. Other infrastructure changes were also associated with rapid growth. The Sanitary and Ship Canal, constructed between 1889 and 1900, reversed the flow of the Chicago River (and its industrial wastes) away from rather than toward Lake Michigan. In addition, the bicycle boom of the 1890s stimulated the construction of paved roads into the countryside.

The maps are (with one exception) commercial maps. Their makers were not primarily interested in creating a carefully dated record of the built environment for future generations; they wanted to sell maps. Their market consisted of Chicago's inhabitants and visitors, who used the maps to get around. Hence, the focus of most of the maps is infrastructure. Visitors to the 1893 World's Columbian Exposition made up the market of several of the maps; such maps inevitably focus on the Exposition more than on the city.
View Online Collection