Waseda—UChicago Baseball Exchange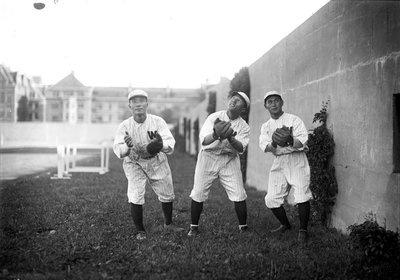 The history of the baseball exchange program between the University of Chicago and Waseda University of Japan began when Waseda's coach Fred Merrifield, a Divinity School graduate and erstwhile Maroons pitcher-infielder, approached Amos Alonzo Stagg in 1907. The Maroons visited Tokyo in 1910 for the first time, and Waseda was invited to Chicago the following year. The exchange continued so as to foster an amicable relationship between the two institutions (and nations) through a shared love of sports.
After a halt during the war years, an attempt at resuming the exchange was made in 1950. However, it was not until 2008 that the University of Chicago team once again paid a visit to Waseda for a baseball game.
Waseda University's baseball team was founded by Isoo Abe 安部磯雄 (1865–1949), who is better known as a socialist in Japanese politics. Lesser known is that he is credited as the "father of Japanese baseball." Waseda University's school color is maroon, which is said to have been taken from the University of Chicago's. Make sure to check out the memorabilia displayed in the entrance hall of the Gerald Ratner Athletics Center!