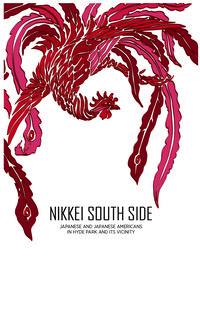 Curated by Ayako Yoshimura
Due to high levels of COVID-19, access to the Library, including the Exhibition Gallery, is limited to University of Chicago students, faculty, and staff through its closing date on Jan. 28.
Chicago's South Side has long-standing but little-known relationships with Japan. In 1893 the Japanese Garden in Jackson Park was established for the World's Columbian Exposition. In the same year the University of Chicago conferred its first-ever doctoral degree—upon a Japanese Divinity School student named Eiji Asada. Taking this momentous year as a point of departure, this exhibit highlights more than a century of connections between Japanese and Japanese Americans and the University and Hyde Park area.

During Japan's Meiji and Taisho periods (1868–1925) the University of Chicago was a frequent destination for so-called "government students" from Japan. These elite scholars were sent by the Japanese government to acquire advanced knowledge in various fields, then to bring their expertise back home. Showcased are the campus activities (self-run periodicals, participation in cultural events) of some such students; letters of two notable alumni: Jiuji Kasai (class of 1913, and a long-term friend of the University) and Heita Okabe (a student of Amos Alonzo Stagg); and the baseball exchange program between the University of Chicago and Waseda University in Tokyo (established by Stagg and his student Fred Merrifield, who had taken a coaching position at Waseda).

Also recognized are several notable Japanese and Japanese American educators. Toyokichi Iyenaga (Far Eastern studies) was a popular lecturer in the University Extension, whose teaching received press coverage on multiple occasions. From the University Archives come letters by Professors Joseph Kitagawa (Divinity School), Akira Irye (history), and Tetsuo Najita (history)—all eminent scholars in religious and intellectual history—that evidence their work in lobbying for visits by members of Japan's imperial family, and in procuring from the Japanese government financial support for Japanese studies at the University. In the case of another reputable scholar, Yoichiro Nambu (theoretical physics), a glimpse into his 1950s research notebooks is afforded.

World War II substantially affected the University's relationship with Japan in that Japanese students and scholars needed to leave the institution after the bombing of Pearl Harbor. Because of its contract with the U.S. Military (which concerned not only research for the Manhattan Project, but the conversion of some campus facilities into training sites for soldiers), the University was barred from admitting Japanese American students for over a year—even though the Oakland/Kenwood/Hyde Park area at the time had Chicago's largest population of Japanese Americans that had been relocated from internment camps. The University's wartime dilemma is traced through official correspondence with—and internal memos about—Japanese American applicants. Meanwhile, thanks to contributions from former residents, a large portion of the exhibit is dedicated to celebrating the once-bustling Japanese American community on the South Side.
Exhibit Publications & Documents