The Presidents of the University of Chicago: A Centennial View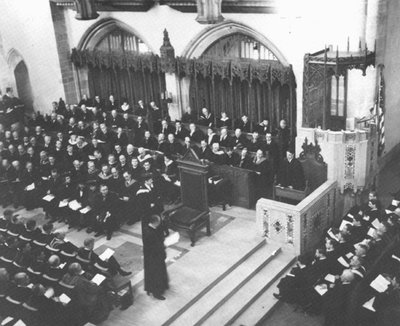 "The Presidents of the University of Chicago: A Centennial View" concludes a series of four exhibitions and accompanying catalogues organized in conjunction with the Centennial of the University of Chicago. Previous exhibitions have viewed the University's history through perspectives afforded by the faculty, the student experience, and the relationship between the University and the city of Chicago. "The Presidents of the University of Chicago" focuses on the distinctive contributions of the University's ten chief executives to its development.
The presidents of the University of Chicago shared essential values that account for extraordinary consistency in the University's mission over the past 100 years. A coherent vision of intellectual excellence and commitment to research informs debates about education and curricular developments throughout the institution's history. The ten chief executives have led the University of Chicago through periods of profound changes in society, community, and the relationship between government and higher education; growth in faculty and facilities; and careful attention to financial stability. Transitions in administrative leadership provided the occasion for shifting emphases among these themes, with change viewed as a necessary means to strengthening the University's position as an outstanding educational institution. "The Presidents of the University of Chicago" traces this continuum in the careers of ten remarkable individuals.
This exhibition, together with the three preceding Special Collections Centennial exhibitions, received support from the Office of the President. Jean O'Brien conducted preliminary research, and Kim Coventry participated in the initial stages of planning. The University of Chicago Magazine and University News and Publications provided assistance in locating materials for the exhibition and catalogue. Richard Popp researched and wrote the ten essays, and he organized the exhibition.
tDaniel Meyer, who edited this catalogue and directed the production of the exhibition, has guided the entire Centennial exhibition and catalogue series in Special Collections. He brought to this project an extensive knowledge of the University's history and the archival collections documenting it. The resulting interpretive exhibitions and accompanying publications, presenting four critical perspectives on the University of Chicago's history to a broad audience, constitute an achievement consistent with the University's commitment to excellence in all aspects of its work.
-Alice Schreyer, Curator, Department of Special Collections