Hanna Holborn Gray (1930- )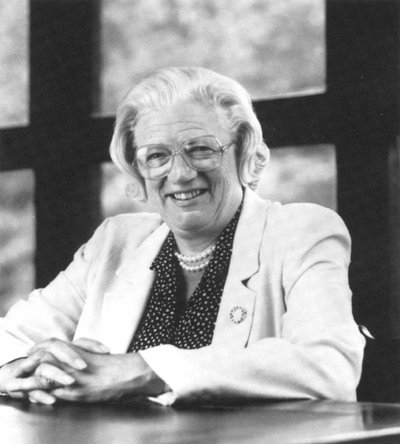 Assistant Professor of History 1961-1964
Associate Professor of History 1964-1972
Professor of History 1978
President 1978-
Hanna Holborn Gray was practically destined to an academic career. She is the daughter of a prominent professor of European history, Hajo Holborn, who after seeking exile from Nazi Germany taught at Yale for 35 years. Her mother, Annemarie Bettmann, who held a PhD in classical philology, was no less important in supporting her academic aspirations. She arrived with her family in New Haven at the age of four, and attended the Foote School with other Yale faculty children, as well as English children who had been sent from Oxford because of the war. She entered Bryn Mawr College at 15, and upon graduation travelled to Oxford as a Fulbright scholar. After receiving her PhD degree from Harvard in 1957, she taught there for several more years, being promoted to assistant professor in 1959.
She met Charles Montgomery Gray in a Renaissance history seminar while both were graduate students at Harvard, and they married in 1954. When he received an appointment at the University of Chicago in 1960, she moved with him, without any specific job plans of her own. She thought about attending law school, and spent the first year in Chicago as a Newberry Library fellow. However, in 1961 she was offered a position on the history faculty at the University of Chicago.
Hanna Gray received tenure in 1964, and taught Western Civilization as well as other graduate and undergraduate classes on Renaissance and Reformation Europe. She helped to redesign the College history requirements. Her name first came to prominence at the University, though, after she was appointed to head a committee to review the decision not to reappoint Marlene Dixon, a sociology professor, in 1969. Dixon's case had been taken up by students who claimed she was discriminated against because of her gender and leftist political views. While the committee was still considering the case, students took over the Administration Building, demanding that Dixon be rehired and that students take part in faculty hiring decisions. The committee upheld the decision not to reappoint but recommended that the University offer Dixon a one-year position.
Activists were discouraged by the result, but others hailed the work of the committee, which dispassionately scrutinized the charges of unfair practices and reaffirmed that appointment decisions must be based on teaching and research productivity, and that these standards must be applied equally to all faculty members.

Recognition of Gray's administrative acumen led to her being named dean of the College of Arts and Sciences at Northwestern University in 1972, one of many appointments she was to hold as the first woman in a position. While the press frequently mentioned these "firsts," in the academic world her work came to be recognized in its own right.
Gray's reputation as an administrator was enhanced at Yale during the period of budget cutting which many universities encountered in the late 1970s. While at Yale, she was provost and professor of history from 1974 to 1978, and she served as acting president for 14 months after Kingman Brewster left in 1977.
Returning to the University of Chicago in 1978 in a similar atmosphere of deficits and retrenchment, with balancing the budget one of her first tasks, Gray worked to strengthen the University's historical commitment to scholarship. The problems to be faced were real: erosion of material resources, inflation, changing demographic trends, shifting policies and attitudes of external sources of support, and narrowing opportunities for young scholars. But the greatest danger, she said in her inaugural address, "would be to engage in an apparently principled descent to decent mediocrity."
In the next few years she embarked on an ambitious building program, with equally ambitious plans to raise funds to support it. West of Ellis Avenue a new science quadrangle was constructed which included the John Crerar Library, incorporating the merged collections of the Crerar with the University's science holdings, and the Kersten Physics Teaching Center. The Bernard Mitchell Hospital and Arthur Rubloff Intensive Care Tower essentially replaced the 50-year-old Billings Hospital facilities for acute care. Several older buildings were renovated, while new facilities were constructed for the Law School library and Court Theatre.
The greatest danger, large because also least tangible and most wasting, would be to engage in an apparently principled descent to decent mediocrity.
—Hanna Holborn Gray
Seeing graduate enrollments decline nationwide, Gray's administration made sweeping changes in PhD programs, reducing the time permitted to graduate, while initiating workshops and internships to broaden the activities and skills of students writing dissertations. After hitting a low point in 1981 or 1982, enrollments in the graduate divisions began to climb. Initiatives were also taken with the establishment of new ventures such as the Department of Computer Science, the Chicago Humanities Institute, and the Irving B. Harris Graduate School of Public Policy Studies.
Applications to the undergraduate College increased, and enrollment grew by 28 percent between 1978 and 1991. In order to improve resources for student life, the University renovated recreational facilities at Ida Noyes Hall, created new student housing, joined a new athletic league formed with other rigorously academic institutions, and promoted activities such as the popular "Kuviasungnerk" winter festival. Long known for its "Common Core" program, the College revamped its curriculum to strengthen the two-year core class sequence required of all students.
Responding to changes in medical care and research, Gray led the separation of the hospitals from the University and their establishment as a corporation of which the University is the sole member. The five-year "Campaign for the Arts and Sciences" surpassed its goal of $150 million in 1987 while separate campaigns raised additional funds for the Graduate School of Business, Medical Center, and Law School. At the opening of the University's Centennial in 1991, a new $500 million campaign was announced. As many universities bemoaned declining enrollments and decreasing funds, Hanna Gray was able to continue reporting that the University of Chicago was in a "position of great strength."
After planning and presiding over a year-long celebration of the University's hundredth anniversary, Gray announced that she would retire at the end of June 1993, making her 15-year tenure as president the third longest, and one of the most productive, in the history of the University.