President's Message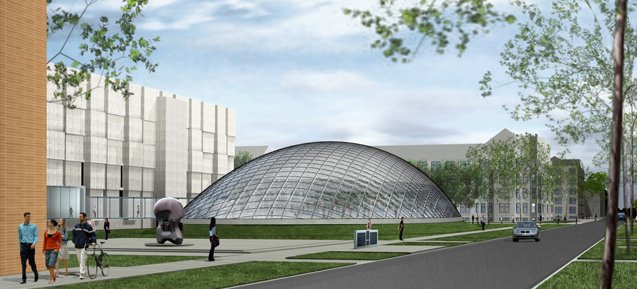 I am very pleased to announce a $25 million gift from alumni Joe and Rika Mansueto that will enable us to proceed with the construction of a new library adjacent to Regenstein. The Joe and Rika Mansueto Library will use innovative technology to house up to 3.5 million volumes of print material in high-density space, and will provide an important new preservation facility for rare materials and outstanding user space for faculty and students. 
The Board of Trustees has approved the design by renowned Chicago-based architect Helmut Jahn. Images of the dramatic design will be available on the University's web page on Monday, May 12. Construction on the project will begin this summer and we anticipate that the new library will be open for use in Fall 2010. 
This project originated in a faculty committee recommendation as to how to address our increasing and rich collection of scholarly materials and the continuing importance of our libraries as a key research tool for many of our faculty and students. Although other universities have moved a large array of materials to offsite storage facilities when faced with capacity issues, the faculty committee considered the challenges and recommended that we make every effort to keep these materials on campus to facilitate the work of those considerable number of faculty and students whose research is dependent on the ready accessibility of these materials. The Mansuetos' gift enables us to realize this vision and to continue to have the sole academic research library among our peers with the entire collection on campus.
Joe Mansueto, Chairman and CEO of Morningstar, Inc., received his bachelor's degree in business from the University in 1978 and his M.B.A. from the Graduate School of Business in 1980; Rika Mansueto received her bachelor's degree in anthropology in 1991. Joe founded Morningstar, a premier investment research, analysis, and information firm, in 1984, where Rika worked as an editor for several years. Joe received a University of Chicago Alumni Association Professional Achievement Award in 2003 and the Graduate School of Business Distinguished Alumnus Award in 2000.
I am grateful to the Mansuetos for their generous gift and their commitment to the fundamental values of the University which will have lasting impact on our campus and our community. I am grateful as well to the faculty committee who developed the original recommendation and to Judith Nadler, Director of the University Library, for her leadership throughout the project.
Robert J. Zimmer 
President, University of Chicago
May 12, 2008