Library Cards, PINs, & Contact Information
COVID-19 Information for Visitors
Regenstein, Mansueto, Crerar, Eckhart, and Social Work libraries are open to visitors.
In order to provide broad yet safe access to all, visitors to the University of Chicago Library, including alumni, guests and family members of UChicago faculty, students, and staff, as well as researchers affiliated with other academic institutions, will be asked to provide proof of COVID-19 vaccination or a recent COVID-19 test.
See COVID-19 Information for Visitors for more information.
UChicago Card Pickup Appointment Option
In addition to walk-in service during ID & Privileges Office hours, UChicago faculty, students, and staff may also register for an appointment to pick up a UChicago Card from the ID & Privileges Office.
See UChicago Card Pickup for more details and to schedule an appointment.
---
This page provides information about Library cards and account information for University of Chicago Library users.
UChicago Card versus other Library Cards
Current faculty, academics, students, and most benefits eligible staff are issued a UChicago Card, which serves both as your University ID and your library card.
Some UChicago Medicine staff are issued a UChicago Medical Center badge rather than a UChicago Card, and must schedule a time to pick up a Campus Card from the ID & Privileges Office before using Library services and spaces.
Other users are issued a Campus Card for either access or borrowing privileges. Note that some users who are ineligible for Library access or borrowing privileges may be issued a Campus Card for access to other University services.
UChicago Cards issued by the ID & Privileges Office are the property of The University of Chicago and are non-transferable. Cards must be shown on demand.
Older Library Cards
Users issued library cards prior to the existence of the Campus Card may continue to use these cards, though these cards are incompatible with the University's printing service. Eligible users who wish to do so may visit the ID & Privileges Office to receive a Campus Card.
Lost or Stolen Cards
If your card is lost or stolen, email lostcard@uchicago.edu or call 773-702-3344 immediately so that your card can be deactivated for your protection; once deactivated, it must be replaced.
If a card is turned in to Lost & Found, it will not be deactivated. The Library will make a best effort to contact you so that you may retrieve it.
To replace a lost or stolen card, visit UChicago Card Pickup for more details and to schedule an appointment.
Library Barcode and PIN
Your library barcode is the 7 digit number that appears directly below the scannable barcode on your UChicago Card or library card. Many library forms require you to enter your library barcode in order to confirm your account.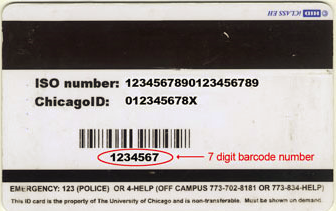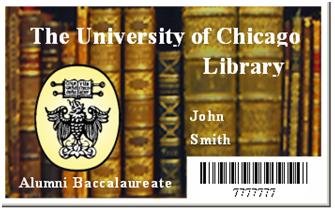 On UChicago Cards and Campus Cards, the library barcode appears on the back of the card. On older library cards, the library barcode appears on the front of the card.

Requesting a PIN (Users ineligible for CNetID)
Users who are ineligible for a CNetID will need to use their library barcode and PIN to login to My Library Account.
To request a PIN, contact the ID & Privileges Office.
Alumni are eligible for a CNetID. Alumni who do not already have a CNetID can create a CNetID.
Keeping Contact Information Current
All library users are responsible for keeping their personal contact information updated.
The library uses the most current email address on file to contact you about recalls, due dates, fines, and other notices.
You can verify the email and mailing address we have on file by logging into My Library Account and choosing Profile.
All current University of Chicago faculty, students, and staff will be contacted via their official @uchicago.edu email address on file with the University. You must check this email account regularly or set up forwarding to another email address.
Members of the public and other visitors using the Library for research purposes must also provide current contact information in order to be given access.

To update personal contact information, please choose the appropriate option below:
University of Chicago Faculty and Staff
Visit Workday@UChicago (mailing address only; forwarding @uchicago.edu email to another address must be done separately)
University of Chicago Students
Visit my.uchicago.edu (allows students to change destination email address for emails sent to @uchicago.edu, as well as mailing address).
University of Chicago Alumni and All Other Users