The University of Chicago Faculty: A Centennial View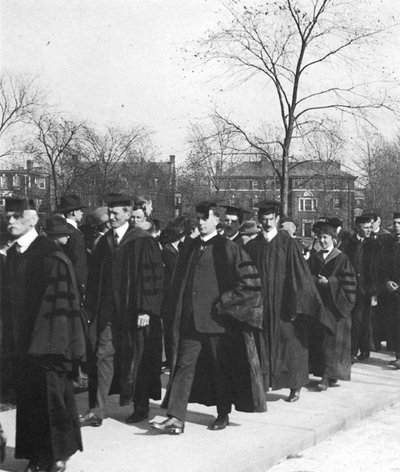 This catalogue accompanies the first of a series of exhibitions in the Department of Special Collections marking the Centennial of the University of Chicago. Each of these exhibitions will present a view of the institution from a distinct perspective as it has grown and developed over the past one hundred years.
When the late Robert Rosenthal, Curator of Special Collections, and others began planning for "The University of Chicago Faculty" several years ago, it was understood that a general history of the entire body of scholars who have held faculty positions over the past century would be beyond the scope of a celebratory exhibition. Instead, attention turned to the selection of a number of individual faculty members who would represent others in the larger historical group. In making this selection, the goal was not only to examine the research careers of the University's foremost investigative scholars, but also to highlight the work of those best known for their dedicated and imaginative teaching, important contributions to literature and the arts, and critical leadership in administrative positions. A preliminary list of faculty candidates was prepared, each scholar identified being a recognized leader in an academic field, and of equal importance, a figure represented in the University Archives by manuscript and documentary material appropriate for exhibition.
In order to secure an outside evaluation, the names of prospective candidates were submitted to the Centennial SubCommittee on University History. Members of the Sub-Committee reviewed the list, suggested possible additions, and offered advice on deletions which the limited exhibition space might make necessary. The SubCommittee also stipulated that no living members of the faculty should be considered for inclusion.
A final group of twenty-eight faculty members was then selected. It is only stating the obvious to note that many more figures of equal stature could have been added if space in the exhibition gallery had permitted-Jacques Loeb, Leo Strauss, Maria Goeppert-Mayer, W. I. Thomas, Carl D. Buck, Edward Sapir, Lowell T. Coggeshall, R. S. Crane, and Leo Szilard were only a few of those suggested. Every reader familiar with the history of the University will no doubt be able to add to the list of nominations. Our hope, though, is that the present exhibition will provoke further thought and discussion and prove to be of interest to all who join in celebrating the University's one-hundredth anniversary.
Support for the Centennial exhibitions in Special Collections was provided by the Office of the President. Frank Yoder, a doctoral candidate in the Department of History, assumed responsibility for surveying archival collections and writing the text of "The University of Chicago Faculty." Kim Coventry directed the design and production of the exhibition and supervised the publication of the catalogue. Richard Popp offered useful suggestions during the development and editing of the text. It's also a pleasure to acknowledge the work of Jean M. O'Brien, who conducted the preliminary research for these exhibitions.
—Daniel Meyer, Acting Curator, Department of Special Collections